At least 3,500 people took part in the Fourth Annual National March for Life and Family on May 31 in Warsaw, Poland. The event was organized by the TFP-inspired Stowarzyszenie Kultury Chrzescijanskiej im. Ks. Piotra Skargi (Fr. Peter Skarga Association for Christian Culture) and the Fundacja Pro.
The March for Life and Family drew around 3,500 people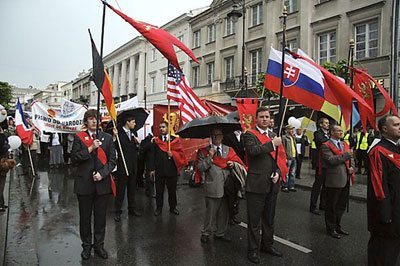 In Poland, May 31 is also Mother's Day.
This year, a torrential rainstorm inundated the march, but the discomfort did not lower the participants' spirits one bit. Smiles could be seen in every direction, and most people even enjoyed the opportunity to suffer for the cause of the family.
Both a brass band and a bagpipe band with more than 20 musicians each accompanied the march. The bagpipe band in particular raised the spirits of the participants greatly, playing songs such as Highland Cathedral and Scotland the Brave. The music reverberated through downtown Warsaw for many blocks, announcing the pro-family message to residents.
Many people held signs saying "Zawsze i wszędzie rodzina za życiem będzie" (Always and everywhere the family is for life), "Stop aborcji" (Stop Abortion), and "Wybieram życie" (Choose Life), and "Europa normalnych rodzin" (Europe for normal families).
The marchers came from all over Poland and many others countries, including France, Germany, Slovakia, Ukraine, and the United States, the flags of which were held by their respective citizens. All were united in a common cause against the "culture of death." Cesar Franco and James Bascom represented the American Society for the Defense of Tradition, Family, and Property (TFP) with an American flag and red TFP standard.
Since joining the European Union in May 2004, Poland has been under severe pressure to approve same-sex "marriage" and remove restrictions on abortion. Powerful homosexual groups such as the Campaign Against Homophobia as well as many Polish politicians have promoted anti-family legislation.
However, the unexpected defeat of the Treaty of Lisbon in a public referendum in Ireland in 2008, with its pro-abortion and pro-homosexual language, gave a considerable psychological and moral boost to the pro-family movement in Poland and indeed all of Europe.
The two-hour march concluded near the Ministry of Justice, where Slawomir Olejniczak, president of the Fr. Peter Skarga Association, gave a final speech of encouragement and a call to action for next year to the marchers.