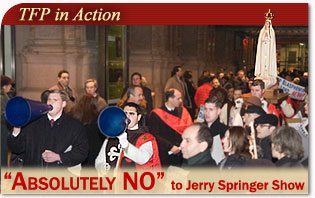 Despite rainy weather conditions, hundreds of outraged Catholics gathered in front of Carnegie Hall in Manhattan to pray and express their rejection over the blasphemous Jerry Springer: The Opera in Comedy. The peaceful protest was a response to the indecent show which attacks the honor and purity of Our Lord and the Blessed Virgin Mary.
Members of The American Society for the Defense of Tradition, Family and Property (TFP) and its America Needs Fatima campaign held a two-hour rally from 6-8 p.m.on January 29. Litanies, rosaries and hymns reverberated off city skyscrapers announcing the act of public reparation.
According to press reports about the show, the Crucifixion is mocked and the Eucharist is trashed. A Jesus figure is introduced as "the hypocrite son of the fascist tyrant on high" who wears a diaper, is fat and effeminate, and admits being "a bit gay." Eve touches Jesus indecently (too immoral to describe) and they say Our Blessed Mother was "raped by an angel."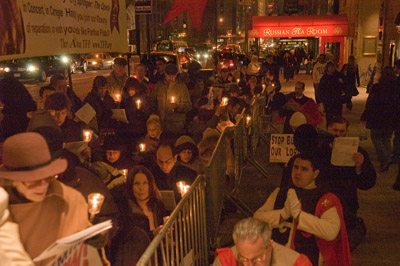 "In light of this indecent attack on Our Lord and Our Lady, you'd think tens of thousands of Catholics would be out here with us, offering reparation," said rally coordinator Robert Ritchie.
The act of reparation was noticed by The New York Times, Variety, and Chortle (U.K.). The Star Ledger reported that:
"An estimated 200 protesters, many from the American Society for the Defense of Tradition, Family and Property in Pennsylvania, gathered outside the hall on opening night with candles, banners and placards reading 'Stop Blaspheming Our Lord Now.'"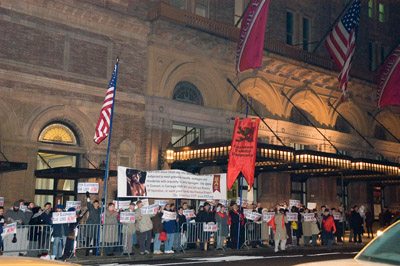 Many who could not attend the rally joined the protest by other means, calling Carnegie Hall to express their disgust with the play. Thousands of others wrote protest letters or sent e-mail complaints.
TFP web site readers who could not attend the rally in person offered prayers and encouragement: "Let us storm heaven with prayers. God is more powerful than Satan," said one. "I will be praying the Rosary today from my home at the same time as your gathering. What you are doing is so important!!!" said another. And "When are we going to wake up, and put God back where He belongs."
"I am appalled at the insensitivity of Carnegie Hall in face of the countless Catholics who are offended by these insults to Jesus and Mary," said rally participant Kenneth Murphy. "This rally is living proof that Our Lord and Our Lady have disciples willing to honor and defend them."
Indeed, public outcry is growing. The America Needs Fatima campaign is inviting its 120,000 members to continue sending postcards and e-mail protests to the chairman of Carnegie Hall's board of directors, Mr. Sanford Weill, asking him to stop public displays of blasphemy and lewdness.
Finally, to close the act of reparation, each rally participant knelt on the cold sidewalk, holding a lighted candle as the Consecration to the Blessed Mother by Saint Louis de Montfort was recited. Flickering in the darkness, each candle burned with zeal for Our Lord and Our Lady, and each candle-bearer was glad to have defended their beloved Catholic faith.
The protest continues.