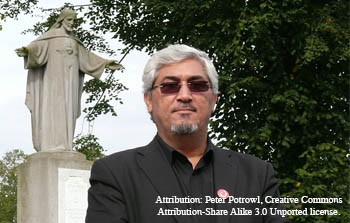 The fascinating autobiography of Muhammad Moussaoui, who narrates his conversion from Islam to Catholicism, shows miracles of grace and of human correspondence, on the one hand, and on the other hand the terrible harshness of Islamic mentality and persecution of Christians. The book's title, The Price to Pay, summarizes well what this privileged soul had to go through in order to be faithful to the call of grace. After his conversion, he took the name Joseph Fadelle.1
A Muslim from an Important Family
Fadelle belonged to one of Iraq's most important Shiite Muslim families, the Moussaoui clan. As head of the clan, his father was a kind of judge and solved disputes between clan members. He also had great wealth and prestige.
In 1987 Fadelle was drafted into the Iraqi army, then under the rule of Saddam Hussein, right in the middle of the war with neighboring Iran. By this time he was 23 years old and single.
Sent to a garrison on the border with Iran, he was housed in a room with a Christian. He became indignant on learning he was going to be lodging with a Christian, an insult to a born Muslim whose family also descended from the Islam's founder Muhammad.
The Challenge: Do You Understand the Koran?
However, the Christian, called Massoud, was older than him and welcomed him with kindness, so that little by little his prejudices began to fade. Fadelle conceived a plan to convert him to Islam. One day, when Massoud was absent, seeing among his books one titled The Miracles of Jesus, he became curious and began reading it. He had no idea who it was, because in the Koran Jesus is called Isa; but he was delighted to read about miracles such as the one during the Wedding at Cana, and was attracted by the figure of Jesus.
Still intending to convert Massoud to Islam, he asked him if Christians also had a sacred book like the Koran. After being told that Christians had the Bible, he asked to see it, thinking it would be easy to refute.
To his surprise, Massoud refused to show him the Christian book and asked an even more surprising question: if he had read the Koran. This question was offensive to one who had been brought up in Islam, but he simply replied he had. Then came a new and rather embarrassing question: "Did you understand the meaning of each word, each verse?"
The future Christian recounts that this question pierced his mind like a fiery dart, since according to Islam what matters is not to understand the Koran, but just to read it. Seeing his embarrassment, his room mate proposed that he read the Koran again, but this time trying to understand each sentence; and then Massoud would lend him the book of Christians.
Disenchantment with the Koran And a Mystical Dream
Muhammad accepted the proposal that completely changed his life. Indeed, as he tried to understand the meaning of what was written in the Koran, he realized that much of it was absurd and meaningless. A consultation with an iman failed to solve his doubts and he became increasingly disenchanted with the book of Islam.
It was as if scales fell from his eyes and he began to see for the first time what the Koran really said. Having finished this keen, meditative reading, he came to the conclusion that this book could not be of divine origin.
It was then a mystical episode took place, which prepared his conversion. He dreamed he was in a meadow on the edge of a creek and saw on the other side a very imposing, extremely attractive man. He tried to jump to the other side, but remained still in the air until the mysterious person took him by the hand and said to him: "In order to cross the creek, you need to eat the bread of life." Then he woke up.
Conversion Shock: Jesus is the Bread of Life
No longer thinking about the dream, he got Massoud to loan him the Holy Gospels. He happened to open the book on the Gospel of Saint John. He was totally absorbed reading it and felt a great well-being. At one point, he was deeply moved to find the mysterious words of his dream: "the bread of life." The words of Jesus in the Gospel were clear: "I am the bread of life: he that cometh to me shall not hunger" (John 6:35).
Fadelle recounts: "Then something extraordinary happened in me, like a violent explosion that blows everything in its path, accompanied by a feeling of well being and warmth … As if a bright light suddenly illuminated my life in a whole new way and gave it all its meaning. I had the impression of being drunk, even as I felt in my heart an indescribable feeling of strength, an almost violent, passionate love for this Jesus Christ of whom the Gospels speak!"
The Price of Conversion: Death
His conversion was complete, total and lasting. He wanted Massoud to help him become a Christian, but met with resistance. According to Islamic law, a Muslim who leaves Islam and becomes Christian should be killed along with those who led to his conversion.
At any rate, Massoud taught him to pray and the two spent their free time reading the Gospels and praying.
Massoud was released from the army while Muhammad was on leave and he did not find him on his return. Shortly after he too was discharged and returned to his parents' house.
Years of Trial
For Fadelle, that was the beginning of a great ordeal that would last for years, requiring unparalleled loyalty.
As Massoud had recommended, he sought to conceal his conversion from his family, while avoiding, under various pretexts, to participate in their common Muslim prayers. At the same time he tried to approach the Christians, but they were afraid to accept him in their churches since they did not know him and were fearful due of the climate of persecution in which they lived.
Fadelle's consolation was to read, covertly, the Bible he had received from Massoud, meditating especially on the Gospels. Finally he succeeded, through a Christian with whom he had made friends, to attend a church; but the eagerly awaited baptism had still not happened.
Time went by and in 1992 his father told him he had arranged a bride for him and that he should get married. It was a girl from the same social environment, and naturally a Muslim, called Anwar.
After his marriage and the birth of a son, Fadelle, who continued to attend church secretly, met a foreign missionary in Iraq who agreed to prepare him for baptism. But then something unexpected happened. One day, when he returned from Mass, his wife, who did not understand where he went every Sunday, asked if he had been going to see another woman. Caught by surprise and without thinking about what to say, Fadelle replied that he was a Christian and went to Mass every Sunday.
Wife Converts
His wife was totally shocked by the news that she was married to a Christian. Discombobulated, she locked herself in her room. Later, in the absence of her husband, she took their son and went to her mother's house.
Fadelle then realized he was in danger. She would tell her family that he was a Christian and he would be sentenced to death. However, miraculously, his wife said nothing to her folks and agreed to go back to her own home. Even more, she asked Fadelle to explain what Christianity was. He employed the same method that Massoud had used with him. He asked her to reread the Koran trying to pay attention to the meaning of its words and the doctrine it expressed. As had happened with him, she was shocked, especially with the way the Koran deals with Muslim women.
After reading the Gospels, Anwar secretly began attending Church with her husband and taking religion classes with the missionary.
Threats of Death and Imprisonment
In 1997 an episode of capital importance took place in Fedelle's life. His family finally realized he had taken a distance from Islam and became suspicious that something was afoot. When the couple went to church, his brothers searched his home and found the copy of the Bible. And when they questioned his young son, he crossed himself as he had learned from his parents.
The next day, at dawn, Muhammad was taken to his parent's house on an urgent pretext. As he entered the main room, he was immediately beaten by his brothers and uncles in the presence of his father. The latter, furious with indignation, accused him of being a Christian. His own mother shouted, "Kill him and cast his body in the sewer!"
Although he was not killed on that occasion, Fadelle was taken by a cousin to one of Saddam Hussein's political prisons to be tortured in order to reveal the name of the Christians who had "corrupted" him. For three months he was severely tortured, lost almost half his weight, and then was released. The family pretended it had all been a mistake, but put one of his sisters in his house to watch him.
Flight From Iraq, Baptism
Finally, in April 2000, after many vicissitudes, the couple and their two children managed to escape to Jordan, where he realized his longed-for dream of being baptized, along with his wife. He took the name John (but became known as Joseph) and she, Maryam.
Assassination Attempt
However, they were still unable to practice Catholicism in peace. When his family realized he had fled, they started looking for him and eventually found him in Jordan. In December of that year, four siblings and an uncle managed to lure him to a deserted place where, after a brief argument, they demanded that he apostatize from Christianity and attempted to execute the fatwa that condemns a person to death for leaving Islam.
Miraculously, despite being shot at point-blank range, the bullets narrowly missed him and he heard an inner voice telling him to run. Already some distance away, a bullet hit his ankle and he fell in the mud, fainting. His attackers thought he was dead and fled. Fadelle was taken by a stranger to a hospital and later treated by Christian doctors in his home, but Church authorities ordered him to leave Jordan in order not to endanger the Christian community. He took refuge in France, where he lives to this day.
The Beauty of a Righteous Soul
The way Fadelle was attracted by Catholicism shows how his soul had a profound righteousness and how his adherence to Islam was merely the result of circumstances of birth and family. He was actually prepared, once in contact with the truth, to accept it even at the cost of losing all the comforts and privileges of a high social position and suffering terrible persecution.
His and his wife's conversions show how Muslims can convert and how many of them actually yearn, though unknowingly, for this "bread of life," which is Our Lord Jesus Christ.
Let us pray for these souls and for Christians so harshly persecuted in Islamic countries.
Footnotes