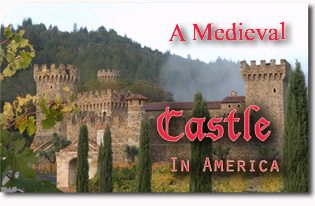 Passing undulating rows of grapevines on either side of a steep driveway lined with cypress trees, the scene reminded me of a picture calendar I had seen of Tuscany, Italy. However, as I crested the hill, nothing I had ever seen before could match what I beheld atop this mountain. I was suddenly taken back in time, across an ocean and to a marvelous, forgotten civilization. Yet, I was not in Northern Italy. I was in Napa Valley, California, and the castle in front of me was Castello di Amorosa, a medieval castle-winery completed in 2007.
I used the castle lord's name to gain access into the fortress and was soon waiting outside the Hall of the Knights. A nail-studded door creaked open and a friendly giant of a man greeted me. "You came all the way from Pennsylvania? Well, thank you for coming!" he said with his deep voice.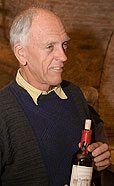 Never having met a winemaker millionaire before, I was curious to see what kind of man Daryl Sattui was. "Take a seat. Have some fresh figs." His open manner and frank unpretentiousness were reassuring. It was evident he was a man that lived for more than just money. He is the type of man who lives to honor and share the traditions from a worthy past.
A Dream Come True and Then Lost
Mr. Sattui's great-grandfather was born in Genoa, Italy, the same city as Christopher Columbus. Vittorio Sattui was a baker who came to America in 1882 and plied his trade in San Francisco. In his spare time, he engaged in his real passion of winemaking. Between Vittorio's baking and his wife Kattarina's washing, the enterprising couple saved enough to start a boarding house in an Italian section of town.
Only three years after his arrival in California, Vittorio's wines gained such a reputation that he decided to quit baking and dedicate himself entirely to winemaking. He picked his grapes from St. Helena, a small town in Napa Valley just north of San Francisco, and ferried them down the bay to his winery in San Francisco. The thriving V. Sattui Wine Company delivered its wines directly to patrons' homes in the Bay Area by horse-drawn wagon and even gained customers in Oregon and Washington State.
An artificial governmental experiment dealt a blow to Vittorio's family business from which it would not recover. Mr. Sattui laments, "In 1920 came Prohibition and he was forced to shut down. As a child, I hoped my family would reopen the winery, so I could learn how to do it and then someday take it over. They never reopened. Finally, I had to do it on my own."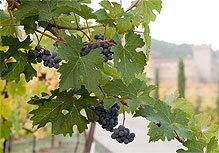 Reviving the Family Business
Having inherited a great appreciation for wine, but not the practical knowledge of making it, Mr. Sattui set out on a quest to reclaim what Prohibition had stolen. In the seventies, he traveled around Europe for two years, where he got ideas for his business. When he returned, he apprenticed at different Napa Valley wineries to learn the trade.
After gaining some experience and honing his skills, Mr. Sattui drafted a business plan and searched for investors. He found a four-acre property with an old house and a walnut orchard, and was able to get a $500-a-month lease. The house was in such a bad condition that he had to live in his Volkswagen van for a month before he could move in.
Time passed and no investors were willing to take the risk. He paid one last month on the lease, and it looked as though his dream was slipping from his grasp. At the last minute, however, he was able to convince a real estate broker to buy the property and fund building a winery on it. Mr. Sattui arranged with the broker to lease with the option of buying. The winery was named "V. Sattui Winery" to honor his great-grandfather.
By the centennial of the first Sattui establishment in 1985, Mr. Sattui had a beautiful stone winery that also housed a European-style cheese shop and delicatessen. From four acres, V. Sattui Winery eventually acquired over 700 acres of property, supplying grapes from five different microclimates. Most importantly, the wines grew in quality and popularity, winning awards while maintaining reasonable prices.
Daring to Dream Even More
In 1993, Mr. Sattui bought a historic hillside property just south of Calistoga in Napa Valley, California, where Colonel William Nash planted California's first commercial vineyards in 1850. "I had no intention of starting this winery," said Mr. Sattui as we snacked on the fresh figs. "I bought this property because it had 171 acres, forest and hillside. It has a little lake and a stream. It is beautiful! After a few months I thought,
'Maybe I'll replant Nash's old vineyard and sell the grapes to V. Sattui.' Then I thought, 'I'm Italian. I love all things Italian, especially the food and the people.' But the architecture . . . I love medieval architecture, so I decided to make a small winery to make primarily Italian-style wines and sell them here at the winery in an 8,500 square foot building."
That was fourteen years ago, and the 8,500 square feet ended up becoming 121,000 square feet on eight stories, four above ground and four below.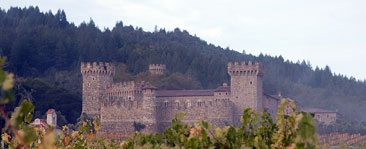 A Hobby
Unlike Mr. Sattui's business plan for V. Sattui Winery, the plan for Castello di Amorosa was more organic and took years to germinate. In fact, the ideas that went into designing the castle came from another of Mr. Sattui's passions, a love for medieval architecture. Just like his great-grandfather, he took his hobby seriously. "Twenty to twenty-five years ago, there were a lot of abandoned palaces and castles in Italy that people could not afford to keep up. They abandoned them. When I was in Italy, I had a motorcycle and a car and I would drive around. I would go down every road. Sometimes I would go all day and find nothing, but if you did it day after day, eventually you would find something great."
"I used to go inside the castles. Sometimes I would break in. I would not steal anything. I used to pry open a door and then when I left I would hammer it up again. You see, I have a bug," he said pointing to his head and grinning. "Nobody would ever go with me twice because I was fanatical. I would get up at dawn and come back after dark. My wife went with me once and she never did it again. My friends would never do it again. I just loved exploring these old places."
"Sometimes I would pretend to be a buyer of castles, when I could not get into a place. A lot of them were for sale and I would go to the real estate agent and say, 'I'm interested in buying a castle.' It really was not the truth. I did not have the money. Then I would dress up in a suit and tie. I would get in and try to get the plans. Then I would take measurements and draw sketches."
He also bought over sixty books on medieval castles, palaces and monasteries. However, his fascination urged him mainly to explore them in person.
Eventually, Mr. Sattui bought two castles, a Medici palace in southern Tuscany and a tenth century Augustinian monastery that he has been restoring. He also is involved in restoring another castle that will be made into a hotel just outside of Siena, Italy.
"You see, I love the old architecture. If I had the money, I would buy them all just to fix them up for posterity."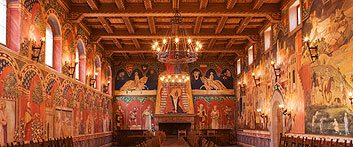 The Austrian Master Builder
Exploring old European castles and buying them is one thing. Building a castle in California is another. So how did this winemaking castle enthusiast put his ideas into action here in America? Authentic castle building and medieval architecture are not exactly the forte of American construction companies and architects.
Again, Mr. Sattui would get inspiration from the old continent. In 1988, he received a small, simple brochure in the mail from Austria trying to promote medieval-style wine cellars made from old bricks. The bricks were from former Hapsburg castles and palaces. At the time, Mr. Sattui had neither the money nor the right property. So he filed the brochure away.
Five years later, Mr. Sattui had the property and proper building permits. When planning a business trip to Austria, he remembered the brochure and dug it out of his files. He thought, "Maybe I can find this man's village and we can talk about it."
He found the village and got directions to Mr. Fritz Gruber's house. "I went up to his doorstep and I knocked on the door. He came out speaking German to me, so I held up the brochure and he just doubles up with laughter. I asked, 'Why are you laughing at me?' He said, 'No, I'm not laughing at you. I'm laughing because I mailed 2,000 of those brochures five years ago and I did not get a single response. Five came back marked 'wrong address.' I thought it was a total failure. Now, you show up on my doorstep five years later.'"
"He is nuts like I am," Mr. Sattui says. Mr. Gruber is a master builder. He loves old medieval architecture and did a lot of the same exploration and marveling that Mr. Sattui did. Furthermore, he studied and learned how to make medieval buildings. They immediately hit it off, and Mr. Sattui stayed at his house for three days. Mr. Gruber showed him the labyrinth of medieval cellars he had constructed underneath his own house. Mr. Sattui chuckles, "He got the disease like I do!" Mr. Gruber was almost incredulous upon hearing Mr. Sattui talk of his dream. "A wine cellar I can understand," he said with his German accent. "But a whole castle?"
Ten Years Underground and Four Years Above Ground
Several months later, Mr. Gruber sent six Austrians to build the first two rooms of Castello di Amorosa and train Mr. Sattui's crew. For three months, they lived at Mr. Sattui's house at the bottom of the hill. "None of them spoke English, so I could not even communicate with them. Every morning before dawn, they would march up here and work until dark and then they would march down. We studied what they were doing, and we learned how to do it."
"We trained local people, most of them Mexicans. A lot of them are hard workers, good people. I have a lot of respect for them. This would never have been built without them." Throughout the fourteen years it took to build the castle, there were anywhere from twenty to sixty workers from five countries, based on the availability of funds.
During the first ten years, from 1993 to 2003, they built two acres of underground cellars and chambers on four levels. The then sixty-one-year-old winemaker was worried he would not live to see the completion of the castle, so ten years into the project, Mr. Sattui tripled the number of workers to complete the four upper levels. The structures above ground took four years to build.
No Compromise
During my conversation with Mr. Sattui, I referred to seeing Disneyland's castle. I almost made him indignant. "I do not like Disneyland because it is all fake. When you go through here, you will see that it is all real. We did not fake it. We either used very old materials that are hundreds of years old, made by hand, or we did it the way it would have been done seven or eight hundred years ago. For instance, we did not use any cement.
We used lime, sand and water. They did not have cement then. We did not use modern tools. We did almost everything by hand."
They hauled an estimated 8,000 tons of stone from two local quarries. Pointing to the basalt, he said it took an hour and a half to chisel one into a block. They also used the softer sandstone. "We chiseled all the stone the way it would have been chiseled. We had as many as seventeen men, day after day. All they did was chisel stone."
Many of the bricks used to make the underground cellars came from Mr. Gruber in Austria. At one point in the tour, Mr. Sattui stopped to show us a "mess up" that proved the age of the bricks. "Most of these bricks were made by the royal brick maker to the Hapsburgs. These bricks are over two hundred years old. See the "H" for Hapsburg? There is a "W" here for Wien or Vienna, a "D" for Deus or God, and the double eagle was a symbol for the Hapsburgs. This is supposed to be an Italian castle, so they were supposed to flip it."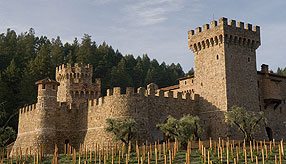 A Real Castle
Castello di Amorosa is a true medieval castle with all that a twelfth or thirteenth century defensive fortress would have. It has a guardhouse, a dry moat and a drawbridge. The high towers and walls are crenellated and contain narrow slits so archers can shoot their arrows from within. There are even holes in one of the towers from which to pour boiling oil on attackers. Underground, there is a dungeon and a torture chamber with real instruments of torture.
One can even see the effects of a "recent" battle. As we walked within the arched corridor of the third-level balcony and as a partially "damaged" tower came into view, he pointed. "See the tower that was partially destroyed in the war of 1328 and was never rebuilt?"
Mr. Sattui desired the castle to look historical. "Castles weren't just built in a few years. They evolved over time." There is the Romanesque building from the ninth to the thirteenth centuries with squared stones annexed by the later "rubble look" with roof tiles from the thirteenth to the sixteenth centuries. There are sealed off doorways and windows, and reinforced arches.
"You can see the whole history of a castle in the walls if you look closely because you see how things have changed. There were wars. Things fell down. There were repairs. Here is a church from an earlier period. They used a different stone quarry. I tried to make it appear as though over time, a lot of things happened."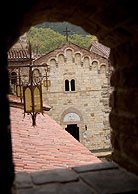 Medieval man put God in the center of society, so on one corner of the fortress is a church with a bell tower, a high-ceiling and an old confessional Mr. Sattui bought from an Italian priest. A beautiful fresco of the Coronation of the Blessed Virgin Mary as Queen of Heaven and Earth is painted above the hand-carved altar.There is the Great Hall, frescoed with medieval scenes and headed by a massive five centuries old hand-carved fireplace brought from Europe. Above the fireplace is a fresco of an imposing baron holding his coat-of-arms.
The Hall of the Knights is a stunningly arched room, the walls lined with paintings of knights on chargers in the full pageantry of medieval jousting. Mr. Sattui told me to stand on a particular spot to hear the echo that the vaulting of the ceiling caused. Customers can enjoy their wine in this room, which is adjacent to the main tasting room, or even rent it for a lunch or dinner party.
The castle is habitable. There are quarters for the nobles, a large kitchen, an outdoor bread oven and stables. There is also a well in the courtyard and an underground cistern for storing water or grain during a long siege.
A Real Winery
The castle has a total of 107 rooms, of which 95 are dedicated to winemaking. As the castle dog, Lupo—wolf in Italian—led us down into the cool subterranean cellars, I felt I could get lost. Room after arched room, we walked, passing barrel upon barrel of aging castle wine. Every room was different. Voices echoed from unseen corners. It was a veritable maze.
Castello di Amorosa makes 8,000 cases of wine each season. The red varieties include Sangiovese, Cabernet Sauvignon and Merlot, using the grapes that grow on the forty-eight acres of vineyards around the castle. For the Pinot Grigio and Gewürztraminer, white grapes are taken from a vineyard closer to the coast.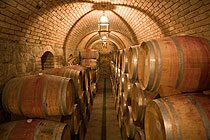 Mr. Sattui made sure the cellars maintain the most ideal conditions for keeping wine. The temperature is kept steady at between fifty-eight and fifty-nine degrees Fahrenheit no matter what the temperature is outside. It is dark and damp, allowing very little evaporation so as not to dry out the 1,200 wine-laden French oak barrels lying within.
The most impressive cellar room is at the "heart" of the castle, deep down inside. It covers 12,000 square feet and is canopied by forty cross vaults with ribbing and lined with pillars. All one can do is look up in awe. It has the atmosphere of a medieval church.
Off one corridor, there are fifteen smaller rooms closed off with iron gates. This is where the older wines are bottle-aged. We paused at the first room, populated with old wine bottles. "This room is especially emotional for me because I dedicated this room to my great-grandfather," said Mr. Sattui. "All these wines were made by him and are almost 125 years old. They still have the original label."
Admiration for Things Medieval and a Desire to Share
It was a little difficult to extract the reasons why Mr. Sattui built Castello di Amorosa. It seemed to be so deep that he could not put it in words. Before building the castle, he spent countless hours exploring, sketching, photographing and reading about medieval structures and designs. Renaissance architecture did not appeal to him as much. There was just something about what medieval men did that made him passionate about it.
Perhaps it had to do with a desire to replicate the permanence of medieval things. "I just marvel at how a thousand years ago, they were able to build buildings that have endured in time. With the primitive technology they had, they were able to hoist those beams up and build walls thirty feet high that haven't fallen down, when our modern things are much more precarious."
One of Mr. Sattui's main motivations was that he simply wanted to share without compromise a vision that he loved, even if it meant completely changing his retirement plan. At sixty-five years old, he had spent practically all his savings, sold his stocks and fired his housekeeper and gardener.
"If I can make somebody happy doing something, then it makes me feel good that I've done something with my life. I put my heart and soul, and everything I had financially into it. So I feel good about it, even though I probably could have been going to the Riviera, doing something else with my life."
Daryl Sattui was not content to reach back three generations to resurrect his great-grandfather's winery and enjoy its immediate fruits. He reached back to the Middle Ages and made of that marvelous past a reality here in America.
It was not easy to leave Castello di Amorosa. One cannot help but fall in love with its ruggedness and its panoramic views, causing one to want to stay there indefinitely. Yet, I went away consoled that this American castle would be there to greet countless admirers for many centuries to come.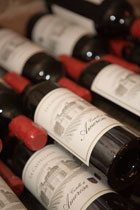 A special thanks…
The author thanks Mr. Daryl Sattui for his kindness in personally showing his castle, as well as for the wonderful conversation, the fresh figs and the bottle of Cabernet Sauvignon. Furthermore, the author also thanks Mr. Donald Lee for acquainting him with the existence of Castello di Amorosa, for taking him out to see it, and for the use of his pictures.
For more information, visit www.castellodiamorosa.com.