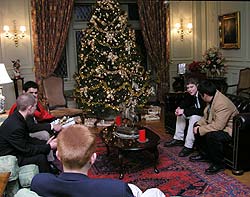 A group of boys received a special Christmas present from their parents last year: the gift to participate in the Winter Youth Program, held from December 30 to January 3, which was sponsored by the American Society for the Defense of Tradition, Family and Property ("TFP") and St. Louis de Montfort Academy. Boys came from as far as California to attend the five-day program at the Academy's rural campus in Herndon, Pa.
"It was one of the best youth programs I had ever attended," said Thomas Shibler, 16, of Hazleton, Pa. He commented on how the informative talks, friendly company, games, and an atmosphere, still pervaded by the Christmas spirit, combined to make it an experience he would always remember. Sitting around the warmth of the fireplace, participants heard talks on topics such as the Four Last Things, the Middle Ages, the influence of music on our souls, and the Crusades. They played indoor games like charades, acting out the meaning of key words from the talks. "We were always busy doing something worthwhile," Thomas remarked.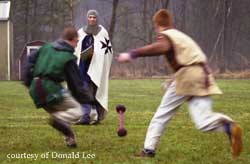 The boys joined the New Year's celebration at the TFP headquarters in Spring Grove, Pa., and at the stroke of midnight, the boys renewed their Consecration to Jesus Christ through the Blessed Virgin Mary according to the method of Saint Louis de Montfort. Following the New Year's banquet, everyone joined in singing Christmas carols.
The program ended with a banquet and the trademark Medieval Games where the young men divided in two teams and clashed in chivalrous competition. At the program's close, each participant was given a miniature statue of a crusader knight, kneeling in prayer before battle, a reminder to the young men that we must be valiant for God and Our Lady in our daily lives. Thus ended a program that, in the words of some of the participants, "only lacked snow."