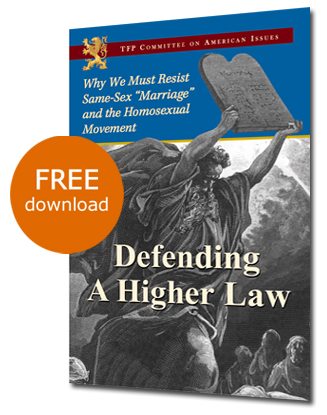 "The paper is written with impeccable logic in virtually every section. In some ways, it almost reads like a modern format of the Summa Theologica where the opponent's arguments are laid out and then refuted. The authors are fully in conformity with the teachings of the Church and argue for the Church's teaching passionately."
Most Reverend Elden Francis Curtiss
Bishop of Omaha, Nebr.
"Anyone who is interested in the deterioration of Christian morality…cannot ignore the contribution of the book Defending a Higher Law."
Most Reverend Fabian W. Bruskewitz
Bishop of Lincoln, Nebr.
"My hope is that Defending a Higher Law will be widely read and have a positive effect on prohibiting legislative initiatives aimed at legally redefining the meaning of marriage."
The Most Reverend John C. Nienstedt
Bishop of New Ulm, Minn.
"An excellent job of clarifying the seriously misunderstood religious and social aspects of a homosexual lifestyle."
Most Reverend Robert F. Vasa
Bishop of Baker, Ore., Episcopal Advisor of the Catholic Medical Association
"TFP's book clearly and accurately spells out the key issues and arguments exposing the pro-gay movement from both the Catholic and scientific perspective. TFP is to be applauded for its courageous stand."
Joseph Nicolosi, Ph.D., President
National Association for Research & Therapy of Homosexuality (NARTH)
"EUREKA! Finally a thoroughly objective, rational, logical and factual analysis of the homosexual myth currently permeating the modern society."
Fr. John Trigilio, Jr., Ph.D., Th.D.
President, Confraternity of Catholic Clergy, EWTN Host, and Author
"The TFP has raised issues which have long been suppressed in the dialogue over this question."
Paul M. Weyrich
President, Free Congress Research and Educational Foundation
"An informative , intelligent, enlightening guide to the issues raised by the gay movement. This is a book for all Americans who want to understand the many dimensions of this question."
Sandy Rios
President, Concerned Women for America
"This book gives us a powerful and useful weapon to oppose their offensive and to defend Christian values."
Joseph M. Scheidler
Founder and National Director, Pro-Life Action League
Recipient of Legatus' 2003 Pro-Life Award
"Essential for understanding the gay rights movement and the current push for homosexual marriage…"
Mary Anne Hackett
President, Catholic Citizens of Illinois
"A cry of the heart and a call to arms to resist a movement that is in the business of bringing down the very foundations of natural law and the Judeo-Christian worldview on which America was originally built."
Dr. Peter Jones
Author of Androgyny: The Pagan Sexual Ideal