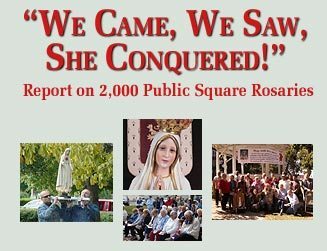 The Public Square Rosary campaign began with a discussion about commemorating the 90th anniversary of the last apparition at Fatima when Our Lady performed the Miracle of the Sun. Its organizers tried to think of a special way to make this anniversary something special and relevant.
The idea of holding a rosary outside in a public place seemed a natural response to the Fatima call for conversion, penance, prayer and, especially, the recitation of the rosary. It would serve also as a response to a culture that increasingly banishes displays of faith from the public square.
Thus, the Public Square Rosary was born, and the idea spread like wildfire. Six months of intensive planning followed. Grassroots organizers set up local rallies. When October 13, 2007 arrived, the American Society for the Defense of Tradition, Family and Property (TFP) and its America Needs Fatima campaign could announce that well over 2,000 Public Square Rosary Rallies were held across the United States.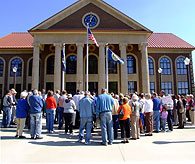 Rallies with a Purpose
The rallies had a concrete purpose in mind – to ask Our Lady for the conversion of America. Participants invited passersby to pray for this intention. They implored the end of sins that offend against public morality. They prayed for the Blessed Mother's triumph promised at Fatima!
Perhaps even more importantly, the campaign was a public witness of the Fatima message, which is so contrary to the secular view that religion is a purely personal matter for the weak and old-fashioned that must be kept behind the Church doors.
"It's time to take the message of Fatima and our faith in the Good News of Jesus Christ to the streets," one Rally Captain in Massachusetts remarked, "and stop hiding behind our church doors, afraid of the ACLU. Our very life and that of our children depend on it." 1
A Massive Response
In John Haffert's book, Meet the Witnesses, the Catholic writer affirms that an estimated 70,000-100,000 came to Fatima on October 13, 1917 to witness the Miracle of the Sun.
On October 13, 2007, it can be reasonably affirmed that an estimated 70,000-100,000 Catholics went out into to the Public Square in America.
With over 2,300 Rosary Captains committed to organizing these events, the mere scope of these rallies was mind-boggling.
With the help of the campaign's central office near Topeka, Kans., Rally Captains received all that was necessary to organize their own events. Downloadable posters and programs were also available online. News of the rallies spread quickly and to such an extent that there were rallies in every major city.
Rally locations were published on the TFP website so that participants could find the nearest one. An impressive network was formed in which local organizers would meet nearby Catholics they never imagined existed. Organizers were also pleasantly surprised to find visitors from other states join their ranks on the streets.
Symbolic Places
The public squares chosen by Rally Captains were often some of the most symbolic places in the country.
One Public Square Rosary Rally took place on Fifth Avenue in front of Rockefeller Centre in front of St. Patrick's Cathedral in New York City. Nearly 500 people bore public witness to the Fatima message and even knelt on the crowded sidewalks of one of the world's most famous avenues. However, that rally alone did not represent the huge city. There were an estimated 100 Public Square Rosary Rallies scheduled within a 50-mile radius of the Fifth Avenue event.
Another symbolic place was Lafayette Park right across from the White House. Nearly 120 people attended a rally in this park that has long heard the chants of pacifist and ecologist protesters, but now heard prayerful entreaties to Heaven. Congresswoman Mary Fallin (R-Okla.) joined the rally and prayed the rosary.
Similarly, seventy-five participants braved intermittent rain at the Gateway Arch in St. Louis and another group stationed itself in the middle of Jackson Square in New Orleans.
Public Square Rosaries were prayed at the state capitol buildings in Kansas, Maine, Missouri, Texas, Louisiana and Indiana. Over 300 people gathered at the Capitol in Harrisburg, Penn. and 400 attended a similar event in Sacramento, Calif.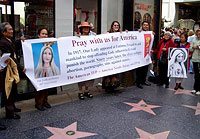 Hollywood and Las Vegas
A rally, held on Hollywood Boulevard's Walk of Fame, was particularly symbolic, since today Hollywood has proven so corrosive to morality. The Rosary Captain there reported:
"The Rosary Rally in Hollywood was held in front of Grauman's Chinese Theatre at noon. Ten zealous souls showed up. This wasn't bad at all since I just decided to lead the rally a week ago." The group prayed the rosary and other prayers and gave out Catholic literature. They also exchanged contact information and agreed to come back to Hollywood regularly to distribute rosaries and literature.
In a similar vein, about 900 people attended the 12 Public Square Rosary Rallies in the Las Vegas area – several of them in front of famous casinos. In some, the Knights of Columbus participated in full regalia. The area's Mater Dei Chapel had a special pre-public rosary service that was filled to capacity. It included Adoration of the Blessed Sacrament, a talk about the history of Fatima, and Benediction. The people then proceeded to the public rosaries all over the city.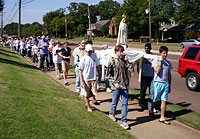 Large Rallies
Early reports seemed to suggest a fewer-than-expected turnout. However, as reports started flooding in from across the country, it was evident that many large rallies occurred. Reports and emails like these began to arrive:
"On the 13th at high noon in the Plaza la Constitution across the street from the Cathedral in St. Augustine, Florida, the oldest city in the country, we had about 200 people participating in the rosary."
"Here is the picture of the Rosary Rally, with around 300 attending in Kingstree, S.C. We had Mass with Bishop Robert Baker attending, after the Rosary, followed by a picnic lunch. It was a beautiful, faith-filled day!"
"Here are pictures from our Rally in Keene, N.H. God bless you and thank you. By the way, we had about 120 people there."
"Would you like a picture of the rally we held in Marina, California? Saint Jude's Church Healing Prayer Group sponsored this Marina event. Approximately 200 to 300 people attended. Is there a Public Rosary Rally planned for next year? Would like to begin planning ASAP."
"The Rosary rally at St Francis of Assisi Parish in Las Vegas was attended by at lease 300 people. It was inspiring, uplifting and the people didn't seem to want to leave when it was over."
"Our Rosary Rally in Ridgefield, Conn. was greatly blessed by Our Lord and Our Lady. It was perfect day with great weather and almost 200 people in attendance. Ave Maria!"
"The public rosary held in Fort Wayne, Indiana attracted approximately 150 people, thanks to the support of the local bishop John D'Arcy (there present), advertisements in the local catholic weekly paper and inserts in the bulletins of the parishes in the diocese."
"I am sending pictures of the rosary rally that was held in Corpus Christi, Texas. We estimate that about 150 to 200 people were in attendance."
The flood continued with messages like these: "About 200 came to the rally located in De Leon Plaza, Victoria." "At Calexico, Calif., we counted 326 persons." "We had about 175 people – pretty good considering the population of Buda (Tex.) is 2500." "About 350 people present in Donaldsonville, La." "At Marymoor Park in Redmond, Washington, we had some 300 participants." "Around 200-250 turned out for a cloudy and cold day in Jackson, Mich." "About 200 were present in Virginia Beach, Va. …"
Successful Rallies
Throughout the day, success stories were abundant. Many Rosary Captains sent reports manifesting their joy and enthusiasm at honoring the Blessed Mother.
"Our Rosary Rally was held in front of the Ave Maria Gift shop in Odessa, Texas. It grew from 30 at the beginning to over 50 at the end. The rally carried over to two hours twenty minutes because the group preferred to finish the entire Holy Rosary."
"Just wanted to tell you the rosary rally we had here in Schenectady N.Y. was a success! About 80 – 100 people showed up."
"I am pleased to report that our Rosary Rally was indeed a success! About 75 people participated, including our pastor and deacon," wrote the Rosary Captains from St. Martinsville, La. "We walked along the one block Main Street Square several times. The rosaries and prayers were recited using the microphone and broadcast from the speakers in the bell tower. It was very impressive to see and hear."
"Here are some pictures from the rally at St. Louis' Gateway Arch on Saturday. We had 75 people in attendance including 2 priests of the Institute of Christ the King Sovereign Priest and 4 of their pre-seminarian candidates. It rained on and off during the event. It was truly a blessed event and the enthusiasm for praying the Rosary in public was evident."
"The temperature was low and the wind had picked up," wrote one captain from Cheyenne, Wy., "but we were there 40-plus, strong and joyful. God is good!"
"Even though Alexandria, Ind. is a small town, we had 48 people who came to honor Our Blessed Virgin and ask for her intercession for our country."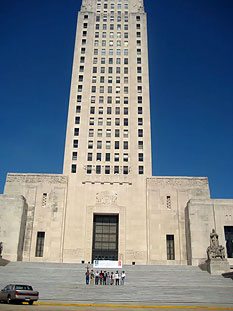 Smaller Rallies
The size of the rally made little difference. Even at smaller rallies, participants were big in enthusiasm.
"Here are a few pictures from our [small] rally at the Capitol in Baton Rouge. It was very blessed. The weather was spectacular. A graced day. God bless you all, and we thank you for your leadership."
"The Public Square Rosary Rally in Wareham, Mass. was in a very public area: the Town Hall's Common. I had twelve participants counting myself. It was great opportunity to pray for the conversion of sinners in public. I think the Blessed Mother was very happy."
"Aloha! How do I submit pictures of our Rosary rally of Oct.13 here in Hawaii, island of Kauai? We had a fairly good turnout, more than I expected."
"There were only 4 of us, but am glad that I was able to participate as a Captain, and would gladly do so again!"
Proud to Be Catholic
Organizing a rally was not easy. The participants faced obstacles and problems. Many felt inhibited to appear in public. False rumors circulated about the rallies. Weather conditions were often far from ideal.
Organizers and attendees overcame these obstacles, often with heroic persistence. They demonstrated a refreshing seriousness, determination and inventiveness that stemmed from their most important possession – their love and devotion to Our Lady.
Far from fearing to pray in public, many gloried in finding the busiest spot to appear.
From Denhams Springs, La., one Captain wrote: "We only had 35 people show for the rosary but at least 100 cars passed through the intersection at every light. So thousands were talking about what we were doing."
"Eleven of us showed up to pray the Rosary at noon, in one of the busiest intersections in Nogales, Arizona. We were completely visible and could not be missed! Please count us as one more Rosary in the Public Square! We answered the call and gave testimony for Our Lady of Fatima."
"A group of 65 people gathered in Niles, Illinois for a program of hymns, prayers, and the Holy Rosary. This is one of the busiest intersections and the site of the Niles Veterans Memorial Waterfall, which served as the backdrop."
At Chula Vista, Calif., "dozens of Catholic crusaders processed from Our Lady of the Rosary to the nearby Planned Parenthood and FPA abortion mills. The long procession with a Lady of Fatima statue and large banners was an impressive public witness. Surely many graces will come from the 2,000 rallies held at the same time across the country."
Rallies amid Adversity
Not all rallies went smoothly. Some were plagued by bad weather and adversity. Far from discouraging participants, it only strengthened their resolve.
In Lawrence, Kans., a Captain reported: "The morning started with flooding, earth-shattering thunder and the lightning was pretty impressive. There were 11 people. The rain continued but about 15 minutes into the Rosary, the sun came out, stayed there and it didn't rain until we completed the entire Rosary, prayers and songs. All around us we could hear the thunder and see the dark clouds. As soon as we finished and just got the banner rolled up, the rain came down again. All of us kept thinking about the rain at the Miracle of the Sun. Our Lady took care of those people 90 years ago and she looked out for us too!"
Others reported winds so intense that their banners were shredded into pieces.
"The devil did all he could to attack this public honoring of Our Blessed Lady," wrote a Rosary Captain in Oklahoma. He faced rumors, denial of publicity and equipment malfunctions. "Near 40-mile-an-hour winds eventually ripped our banner to pieces except for the image of Our Lady which was unharmed and was carried in the front of our column as we walked around the public paths. All of these events confirmed this must have been a noble work for Our Lady, she who will crush his head."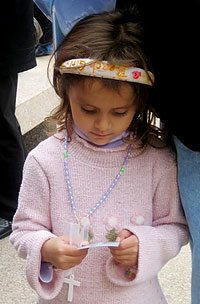 Graces of the Day
One of the most impressive aspects of the Public Square Rosaries was the graces Our Lady gave on that day. Everyone sensed her special protection. All felt fortified to do what needed to be done and were effusive in giving thanks to the Blessed Mother for the opportunity to honor her.
"It was a lovely day, thank you for asking me to be a part it."
"Thank you for giving me the opportunity to be a captain. The rally was really wonderful and was held in the Stone Mountain Park in Georgia and the area we chose was very busy."
"Accounts from the Rally Captains of the public rosaries here in Las Vegas express the same feelings and observations. Participants felt so lifted and overcome with joy that they started clapping their hands, praising God, and thanking Our Lady after the prayers. They lingered a while after the rally, just to talk some more about the event."
One parish priest in Pennsylvania commented: "I know Our Lady will bless us here for our small efforts. God bless you. I was happy to be one of the 2,000 Rally Captains."
From St. Matthew Mission Church in Ripley Miss.: "It was a glorious day to pray…and we knew we were blessed to gather on such a day to celebrate the 90th anniversary of the Miracle of the Dancing Sun."
In front of City Hall in Plainview, Minn., the consensus of the 14 participants was unanimous. "It was such a grace to be able to participate in the rally in our small town and we were all blessed. Thank you for providing the opportunity to take part in this movement of the Holy Spirit."
In Niles, Illinois, the cool temperature and gray skies did not dampen the group's enthusiasm. When it was over one woman was overheard saying, "It's over too soon."
In Kouts, Ind., someone counted 60 people praying the rosary: "It was a wonderful experience and great response from the attendees; they don't want to stop these public rosaries to honor Mary so we will be organizing them periodically from now on."
"Thank you SO MUCH for the Rosary Rallies!" wrote the Captain from Cullman, Ala. "So exciting and powerful! It seems there must have been close to 100,000 people involved! Hope you will consider doing this again in the future!"
From Buda, Tex. came this report: "It was an amazing experience….thank you for the honor of being a Rally captain. It was a pleasure. The program went so well….and the day was just BEAUTIFUL. Even the wind felt 'Heavenly.'"
Over twenty OSU Student Knights of Columbus Council, friends and family were led in the recitation of the most Holy Rosary. "Our Public Square Rosary was a call to live Our Lady's Fatima message and spread it across America. I feel Her Immaculate Heart was gladdened!"
From Valdosta, Georgia: "Thank you for letting me, my family, and others have the privilege of expressing our Catholic Faith in public!"
At Thomas Square in Honolulu, the leader of an impressive crowd of 200-plus said: "It was indeed a truly spirit-filled afternoon and brought out Holy Boldness in us. A one of a kind experience which we would not have experienced without your inspiration. The event makes us want to repeat this yearly or even quarterly whenever it be in Our Lord's Plan."
She Conquered
Man's efforts are insignificant in themselves. But with the aid of Providence, a simple witness became a massive and beautiful event reinforcing the belief that God can intervene and hear the prayers of the faithful. These prayers and future public prayers may not have immediate consequences but they might weigh heavily for the future of the nation.
"To the eyes of earth, nothing dramatic happened today," wrote one Captain in Connecticut. "Thirty-five people gathered in the parking lot of St. Sebastian's Church, talked and laughed, then processed back and forth on Washington Street between Broad Street and Main Street praying, singing, and answering a few questions from passers-by."
"The two hours went very quickly – some of us commented on feeling Our Lady's peaceful presence and we hope to repeat the Public Rosary Rally next month. …It is a privilege to be part of a fellowship which unites a joyful spirit 'in the light of eternity' with a realistic approach to the spiritual warfare which is a huge element of all human history. Our prayers and devotion to St. Michael surely played a part, not only in the outward peacefulness of the day, but in victories which we may never know or imagine."
Perhaps the event can best be summarized by this Captain' observation: "We came, we saw, she conquered."
Footnotes