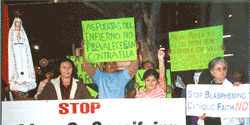 On November 14, Hollywood Boulevard was home to an out-of-character event when 125 Catholics assembled at Galaxy Theaters for a rally of peaceful protest and reparation hosted by the American TFP's America Needs Fatima campaign.
The protesters assembled to voice their opposition to the American debut of the blasphemous film, The Crime of Fr. Amaro. The film has offensive scenes, such as one in which a priest has relations with a 16 year-old girl under a mantle of Our Lady of Guadalupe and another in which an ally cat eats a consecrated Host that has been spat on the floor.
During the rally, participants sang pious songs and America Needs Fatima director, Mr. Robert Ritchie led the program. The film's Mexican stars found an unexpected reception as many of the Hispanic attendees raised the heroic cry immortalized by the Mexican Cristeros, "Viva Cristo Rey!"1 ("Long Live Christ the King!"). Others shouted, "shame" as the stars entered.
The high point of the protest was the praying of the rosary of reparation in Spanish and English. "I find it especially disconcerting that the Blessed Virgin has again come under attack," said Mr. Ritchie. "As time goes on, she is increasingly becoming the object of scorn and hatred."
The protest was the part of a month-long campaign in which America Needs Fatima sent out nearly 80,000 protest postcards for its members to sign and send to Samuel Goldwyn Films, the movie's American distributor. Similar protests are planned for other theaters. Postcards were also directed to The Los Angeles Times and Fox News, urging them to give fair and extensive coverage of the movie's blatant anti-Catholic bias.
"This campaign and subsequent protest has served two very important purposes," Mr. Ritchie explained. "First of all, it has made reparation to Sacred Hearts of Jesus and Mary, which is most important, but it also sent a message to the American film industry that if you are going to promote blasphemous films, you are going to have to deal with faithful Catholics who are not afraid to stand up and say, 'No!'"
Footnotes