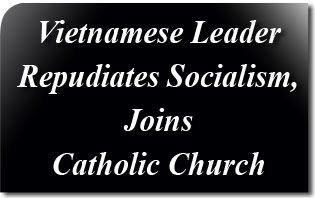 In a book that caused a sensation, titled Journal d'un lâche [A Coward's Diary], Tô Hai, a "founding father" of Vietnamese communism and famous composer in that country announced he had left the Communist Party, reported the site "Le Salon Beige".
On May 28, 2014 he described on his blog with a laconic but very expressive phrase the way he felt with his conversion to Catholicism: "An immense joy at the end of my life…"
The previous day, May 27, he had written on the same blog: "After many sleepless nights, I finally found the path towards a reason for living, a path I had refused from childhood: I turned to God!
"My heart is now at peace with my faith in God. Evil has been expelled, I will live free from anguish until the day I close my eyes in this life."
After giving this explanation, he released the news of his baptism through the press agency of the Redemptorist Fathers in Vietnam.
He also added his latest musical creation: "Dieu vient au secours des égarés" ("God comes to the aid of the lost"). The musician Tô Hai received the baptism in the church of the Redemptorists in Saigon. From May 25 he has the Christian name of Francis Tô Hai.