In the center of West Point's historic campus in upstate New York stands a statue of Gen. Douglas MacArthur. Below him is a plaque bearing the words of wisdom he once spoke. "On the fields of friendly strife are sewn the seeds that upon other fields, on other days, shall bear the fruits of victory."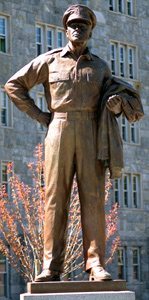 No one understood these words better than Pat Tillman, a former professional football player. He died April 22, on another field, when his 2nd Battalion 75th Regiment unit was ambushed in their efforts to chase down Osama Bin Laden during Operation Mountain Storm in southeast Afghanistan.
Of all the details I read about this extraordinary man's life, one anecdote seemed to stand out and define him. Mark Brand, a friend of Tillman and Assistant Athletic Director at Arizona State University related how Tillman would often sneak into the University's football stadium after hours and climb to the top of a 200-foot light tower. "He would sit in the basket and study, ponder and think," he said. "I can't tell you how dangerous that was."
The fact that it was risky obviously did not matter to Pat Tillman. In his search for a higher ideal he wanted to escape everything, even the football field, dwarfed below him. Pat Tillman was a very good football player. However, he was studying something much higher than playbooks in his tower atop Sun Devil stadium. He was studying life.
He received a marketing degree in 3 1/2 years that some said would take five. He graduated summa cum laude with an impressive 3.84 grade point average. According to fellow student, Ed Odeven: "When he wasn't studying the finer points of, say, advertising campaigns, he was reading lengthy philosophy books, sometimes a few at a time."1
With so many athletes appearing in court rooms these days, it is unbelievably refreshing to see someone of Tillman's caliber uphold higher principles. It is so rare to see higher values like honor, loyalty and unselfishness in mortals of the 21st Century.
What Motivated This Man?
It was not football or money. He gave them both up to join the army, taking a pay cut of close to $3.5 million to do so. It was not cheering fans. Tim Layden, a senior writer for Sports Illustrated wrote: "Pat was the kind of guy who would rather play football in a parking lot than in a stadium with 100,000 people watching."2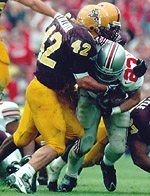 No, Pat Tillman was a man in search of a dream. He wanted something higher than himself and would not allow anything to get in his way. ASU Coach Bruce Snyder found this out the hard way when he suggested red-shirting Tillman because he was not big enough, tall enough or fast enough to make the team as a freshman. According to Mark Brand, Pat looked the veteran coach in the eye. "You can red shirt me or you can play me. It's your choice, but I am not going to be around after four years, I have a life to live."
Something Not Seen Since the Forties
For too long now, people have had to put up with whimpering "underpaid" athletes. Many are starting to realize that in a war torn world where terrorism is the constant threat, there might be something of greater value than million dollar salaries.
Pat Tillman comes along and does something unheard of since the forties when athletes and actors alike joined the military in large numbers. Baseball great Ted Williams simply requested a deferment and public opinion castigated him for it. That is because the public expected it from them in the forties, but not today.
When visiting the ASU web page, I saw a picture of a little boy standing in front of a memorial dedicated to Tillman. He was all alone, gazing up in admiration at his hero. In a world where roles models are few and far between, Tillman stands alone. He is someone a father could point out to his son and say: "That is Pat Tillman, the NFL great who turned his back on fame and fortune to serve his country in time of need."
Turns Down Millions out of Loyalty
He could then tell all the facts that leave one almost speechless. He was drafted by the Arizona Cardinals in the seventh round, almost at rock bottom but through shear determination made a name for himself. Subsequently he was offered a $9 million contract with the newly crowned Super Bowl champions, the St. Louis Rams. Tillman's agent Frank Bauer was stunned when he turned it down. "He said he wanted to remain loyal to the people who were loyal to him," Bauer said.3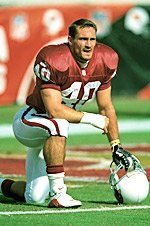 The day after the September 11 attacks, that loyalty manifested itself again. While the nation wept over the dead, Tillman reflected on family members who had served their country and expressed his need to follow their example. "My great grandfather was at Pearl Harbor, and a lot of my family has…gone and fought in wars, and I really haven't done a thing as far as laying myself on the line like that."4
He went on to make his family and country proud by following his words with action. He did not just don a uniform and carry a gun however, he went all out by joining the elite Rangers where a good percentage of those who try out fail. This did not surprise those who knew him. Before the 2000 NFL season Tillman ran a marathon "just to see what it would be like." Evidently he liked it. The next year he ran a 70 mile triathlon as a warm-up for the 2001 season.
A Sacrifice Worthy of Recognition
Although most Americans are edified by the selflessness of Pat Tillman, others are strangely uncomfortable having the spotlight on one individual. The great sin of today is not being different, (we have plenty of those) it is to be more.
Tillman admirably made the decision to join the army and did so discreetly, refusing interviews and media coverage out of a desire to be anonymous like everyone else.
"He viewed his decision," said Arizona Sen. John McCain, "as no more patriotic than that of his less fortunate, less renowned countrymen."
The New York Times writer Harvey Araton counsels his readers to "respect" Tillman's wishes for anonymity since "nothing could more trivialize the mounting deaths of those less fortunate and less renowned…than the tossing around of clichés like footballs on the virtues of one man's heroism and sacrifice."5
Such a commentary misses the point entirely. In the name of justice tribute must be paid to honor the life and the death of someone that was not like all the rest and therefore deserved to be singled out and recognized.
Thank God for Pat Tillman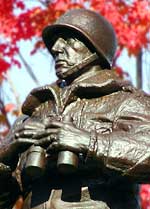 While, I do not deny that there was a spicier side of this former athlete. This should not be imitated. However, focusing on the unselfish sacrifice he made for his country, many young people today and in the future who thirst for role models have found one in Pat Tillman.
Gen. George S. Patton once said that it was wrong to mourn the death of men like Tillman. "Rather we should thank God that such men lived."
And were I as courageous as him, I would climb to the top of "Tillman's tower" high above Sun Devil Stadium and repeat the words of Patton for all to hear.
Thank God such men as Pat Tillman lived.
Footnotes