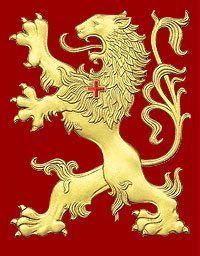 The TFP lion agreeably unites three qualities: strength, movement and agility.
The lion does not give the impression that he is very heavy, carnivorous or ferocious. On the contrary, he demonstrates elegance, aristocracy and strength. He is a lion that knows how to be a Crusader. Taken together, these elements give the lion charm.
Another element is the posture of the lion's head, which he holds high and proud. He sees the enemy in front of him and his claws are ready to press forward the attack, while his tail forms a laurel of victory, as if to say: "victory will come after the attack."
The red background is alive and speaks of the plenitude of life, which is victory.
Another element is the lion's tapered waist. He does not have a pronounced stomach, but rather his bust sprouts from his waist like a fountain. His legs are open, symmetrical and elegant.
That which enchants and enthuses has a grand charm. This is the grand charm of the TFP lion.
The preceding article by Plinio Corrêa de Oliveira was translated and edited for publication without his revision. –Ed.