The Wanamaker is not only the world's largest organ, it is also the largest musical instrument on earth.
Moreau Claude, an organist from Paris, appreciates such things. After all, he has a beautiful organ in his own home and has studied under Marcel Dupre. For his 70th birthday, his daughter bought him a ticket to go see this grand organ and fulfill his lifelong dream.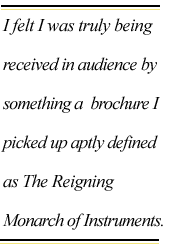 It was a round-trip ticket however since this instrument's home is not in Europe but inside the Lord and Taylor department store in downtown Philadelphia and can be seen only in America.
After hearing the organ play on Monday and Tuesday, a happy Mr. Claude and his daughter got back on the plane Wednesday for the long trip home. According to the official organist, Peter Conte, such trips are not uncommon.
"There are other people in Europe," he said, "that save up for years to come over and see it." Such trips he referred to as veritable pilgrimages.
It seemed odd to me that such a thing would exist in a department store. That is the reason I had to see it for myself. As I walked through the doors and past the men's clothing area I arrived in the Grand Court which is 112 feet long and 66 feet wide.
Expecting to merely hear an instrument of great quality, my first thought upon seeing this organ was how stunningly beautiful it was. Its golden hue and multilayer structuring emits a defined sense of hierarchy synonymous with queenly dignity. I felt I was truly being received in audience by something a brochure I picked up aptly defined as "The Reigning Monarch of Instruments." Her throne is appropriately located high above the gallery on the south end of the court; a gallery which seats 100 musicians on special occasions.
History of the Wanamaker
The history of this organ is as rich as her regal surroundings.
In the late 1800's a man by the name of John Wanamaker opened a "new kind of store." It was to be a place where you could buy just about everything under one roof. It was said in those days that "if you couldn't buy it at Wanamaker's, you couldn't get it in Philadelphia."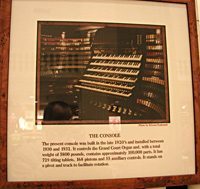 One thing Mr. Wanamaker lacked, however, was an organ for the entertainment of his customers. He believed music was just as important to a well rounded life as work and exercise. He thus began a trend which was common in the early 1900's for department stores to provide soothing organ music for their shoppers.
Peter Conte considered this practice to be a continuation of an English tradition of having an organ in a central public space. "In those days, they couldn't afford an orchestra," he said, "so the organist became a one-man band who would play transcriptions of everyone's favorite orchestral music."
A New Acquisition for the Wanamaker Store
And so it was that John Wanamaker's son Rodman bought the famous Louisiana Purchase Organ now known simply as the Wanamaker. It had been displayed at the 1904 St. Louis World's Fair and was sitting in a warehouse after plans for installing it in the Kansas City Municipal Auditorium fell through.
After being transported to Philadelphia on thirteen freight cars, the organ was too small to fill the cavernous spaces provided for her. Not a problem for Rodman. "As long as I live," he boasted, "we will continue to enlarge it until it combines the grandeur of a great organ with the tone colors and beauty of a great symphony orchestra."
One hundred years later, she is over twice as large as the original St. Louis organ. According to Peter Conte, "it's the size of three symphony orchestras."
Those unfamiliar with organs will appreciate its grandeur by comparing it with other organs. The world renowned Cavaillé-Col organ in Notre Dame Cathedral has 7800 pipes. The Sydney Opera House grand organ boasts of 10,000. The Wanamaker has no fewer than 28, 482. And the variety is equally staggering. Some pipes are as small as a child's pinky while the largest one, being 32 feet long, would allow the same child to play hide and seek inside.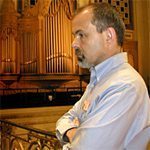 The Curator
Back in the twenties, there were 40 full-time employees looking after her. Today there are only two. One of them is Curt Mangel. He is the curator. However, this title in no way describes all he has done for an instrument described as "unplayable" in 1991 by Peter Conte. He has literally brought it back to life and describes what he does as a "labor of love." Now it is operating at 96 percent of its capacity.
He was interested in organs since he was a young boy and laments the fact he first visited the Grand Court only eight years ago. Amazed with the organ's beauty, he also noticed it needed a lot of work. Realizing the importance of this instrument, he organized a group of professional volunteers to come in for one solid week to work on it. He ended up staying as a volunteer for five years. Lord and Taylor eventually hired him as a consultant.
I was able to go behind the scenes where the menagerie of pipes is located and saw first hand the almost countless screws and bolts that were replaced to make it what it is today. I was in awe at the laborious precision of the restoration accomplished under the direction of this one man.
He is someone you cannot help but like although he is a man of few words. When speaking about his work on this organ, he looks to the horizon as if to distance himself from the value of his labors, not wanting credit for the good he does.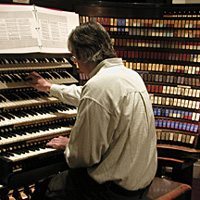 The Friend
Wallace J. Mclean is a proud volunteer with an organization called The Friends of the Wanamaker Organ. He is a 78 year-old man with the eyes of a 14 year-old. That was his age when he first heard the Wanamaker played. "I never forgot it," he said.
He derives an obvious joy being there and described his reason for becoming a volunteer very succinctly. "I have been taking from the organ all my life" he said. "It's payback time now." He speaks with passion about the organ as tears well up in his eyes.
Such enthusiasm is not uncommon around the Wanamaker. A shopper named Ethel May McSparren stopped by while we were speaking to give her testimony. She is from Lancaster, Penn., and first heard the organ around Christmas time when she was three years old. "I almost cried when I heard it start," she said, "I did not know they were still playing it. I wish my father was alive so he could hear this."
A Relic of the Past is Saved from the "god of Consumerism"
Before leaving, I saw a couple who seemed noticeably more moved than the rest. They were Mr. and Mrs. Robert Hoppe from Waverly, New York. They both looked well considering they had just finished a six-hour train ride. Like the Frenchman, he too was celebrating a birthday with a trip to see the Wanamaker, compliments of his wife.
"I could not have given him a better gift," said Mrs. Hoppe. "He was so happy when I told him we were coming, he was grinning from ear to ear." With camera in hand, she was snapping photos of the majestic organ pipes high above her while her husband stood in silent admiration.
He had acquired a taste for music some years ago but admitted there was nothing like live music. Holding his hands up in an almost prayer like gesture, he added, "But to think that Boze is coming close to reproducing this."
This comment said it all. Organs may come and go but there is nothing like the Wanamaker on planet earth. More impressive than its size and the appreciation of those who come from far and wide to hear it is the resolution of those determined to preserve her.
Many people would not expect to see Americans make the Herculean effort of these men to save such a relic of the past. Nor would they think it possible for a high-end store like Lord and Taylor to support this endeavor.
I could almost hear them suggest piping computer-generated music behind the façade of this magnificent organ as an alternative to expensive repairs. Others might go a step further and suggest getting rid of the organ altogether. Sacrificing her to the "god of consumerism," would, after all, free up a lot of space which could be used for more merchandise.
However, that is not what Lord and Taylor chose to do. And with the help of a dedicated curator, an accomplished organist and a lot of dedicated "friends," its sound is live and its appearance grand. It can be heard and appreciated — only in America.
For more information on the Wanamaker Organ, please go to: www.wanamakerorgan.com.