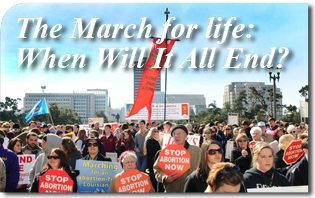 On January 22, 1974, the first March for Life was held on the West Steps of the Capitol. An estimated 20,000 committed pro-life Americans rallied that day on behalf of the unborn. Much has changed since that memorable day.
On the occasion of the 39th annual March for Life, the American Society for the Defense of Tradition, Family and Property (TFP) now joins legions of Americans nationwide who oppose abortion.
Indeed, the fight to defend God's Law against the taking of innocent life has been long and hard. However, to all who have followed the debate, the results are more than evident—the pro-abortion movement is suffering many defeats. The fight has been well worth it.
More Abortion Clinics Closing than Ever
Much has changed since 1974 when it seemed abortion clinics would sprout up all across the nation.
Instead, abortion death clinics are now closing in record numbers. In the past eighteen months alone, nearly 50 abortion clinics have closed their doors due to the protests and prayers of so many dedicated pro-lifers.
In 1991, there were over 2,200 abortion clinics nationwide. Today, there remain just over 670 and decreasing. Several states are reduced to only one abortion death clinic. Some facilities are open just one day a week. Pro-life activists have ensured that abortion clinics are not found in 90 percent of American counties.
Doctors and nurses to staff these death clinics are becoming increasingly hard to find and keep. Some resort to bringing out-of-state doctors in because local practitioners are loath to associate themselves with the deadly trade.
Legislative Offense
Much has changed since 1974 when the law unleashed itself upon the unborn. It seemed as if this single court decision had sealed forever the fate of these innocent victims.
Today, the debate is still raging over Roe v. Wade. A record number of pro-life bills have flooded state legislatures in 2011, many of them passing into law. Many of these involved restrictions based on parental rights, preventing the abuse of minors, informed consent, or even health code violations.
Moreover, new legal concepts are finding their way into pro-life bills. Six states passed late-term abortion bans after 20 weeks based on fetal pain. There were groundbreaking clinic regulations in Kansas and the Heartbeat Bill in Ohio. Directly challenging Roe v. Wade, the Personhood Movement gained increased exposure in 2011.
Groundswell of Opposition
Much has changed in public opinion since 1974, when only the most dedicated and committed activists dared to voice their opposition to abortion. Back then, the media and culture proclaimed abortion to be a victory for sexual liberation and all those opponents were dismissed as backward and outdated.
Since then, the pro-life cause has recruited youth who swell its ranks and ensure its future. It has secured the support of bishops and priests who have begun to speak out against pro-death politicians receiving Holy Communion. We must also mention the countless prayers and rosaries that have been offered up by the faithful and which have served as a most efficacious means to our victories.
The result is that the battle over abortion has proven to be one of the most polarizing issues in our nation's history. Today, well over half of Americans consider themselves in some way to be pro-life while the pro-abortion portion of the population is declining. . . and aging.
Indeed, being pro-life has almost become mainstream.
When Will It End?
So, yes, much has changed since 1974—but much has also remained the same. While it is good to recall our victories and progress over the years, it is still painful to admit that abortion continues unabated. Despite all our efforts, millions of unborn are still dying. The questions we must ask are: When will it all end? When can we stop fighting?
The answer is that we hope to end the scourge of abortion through our continued peaceful and legal efforts on every front. This may take yet more time. However, the fight for God's Law will never end.
In this vale of tears, we must always be engaged in the fight for God's Law. There will always be those who oppose this law and work to the contrary. The minute we cease to fight, we will be preparing ourselves for a new defeat.
A Need to Continue the Struggle
What led to abortion in the first place was the softness of those who refused to react in face of the promiscuous sexual revolution of the sixties. We lacked vigilance while a culture of death took root.
If today we succeed in reversing the decisions that allow abortion, the battle will be only partially won. Unless we are continually engaged in the fight, those who oppose God's Law will come charging back by undermining the family, marriage and all other institutions that support a culture of life.
That is to say, like it or not, we are engaged in a constant peaceful and legal fight for God's Law and the worst possible defense is to abandon the fight after a partial victory. The best possible way of advancing our cause is to unify and fight ardently for it. When we lose our vigilance and become complacent, that is when things start to go wrong.
By this fight, we will ensure a pro-life future; however, if we do not continually fight for our values, we can easily lose them. If we do not give these values importance, it will be much more difficult to pass them down to our children. If our prayers do not continue to beseech the blessings of God through the intercession of the Blessed Mother, we will not prevail.
If the tragic abortion battle has taught us anything, it is that we must always march for life.