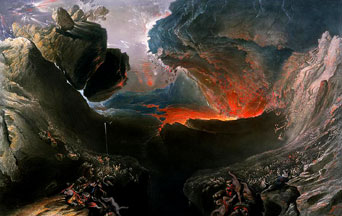 "And it shall come to pass at that time, that I will search Jerusalem with lamps, and will visit upon the men that are settled on their lees: that say in their hearts: The Lord will not do good, nor will he do evil" (Zep 1:12).
Zephaniah's severe warning is directed to those who say, "God cannot punish us." Upon them, the prophet continues, will descend "a day of wrath, a day of tribulation and distress, a day of calamity and misery, a day of darkness and obscurity, a day of clouds and whirlwinds, a day of the trumpet and alarm" (Zep 1:15-16).
The COVID-19 pandemic has once again raised a theme that had been the focus of heated debates in recent years: divine retribution. Can God punish? Can disasters, natural or man-made, be considered chastisements of Providence? The Pontifical Magisterium and Church Doctors unanimously answer both questions in the affirmative—and this has been the clear and constant position of the Church for two thousand years. However, people with a relativist and modern ecumenical mentality have completely changed this approach.
"Earthquakes, hurricanes, and other misfortunes that strike both guilty and innocent are never a punishment from God. To say the contrary is to offend God and men," said Father Raniero Cantalamessa, the preacher of the Papal Household, in his Vatican homily in the presence of the Pope during the Good Friday liturgy celebration. He not only denied that the current pandemic should be considered a divine punishment but also affirmed a general principle: "disasters are never divine punishments." Thus, he implicitly rejected the very idea of punishment. However, he is not the only one.
"The idea of divine punishment, especially through a dramatic situation like the one we are experiencing, is not part of the Christian vision," says Angelo Cardinal Scola, Archbishop Emeritus of Milan. "It is pagan to think of a God who sends scourges," said his successor, Most Rev. Mario Delpini. "It is not God who punishes us," adds the Bishop of San Miniato, Most Rev. Andrea Migliavacca. "Many have wondered if this virus is a punishment. The answer is NO. It is not a punishment. Jesus made it clear on several occasions that there is no relationship between a fault committed and the evil suffered," explains Most Rev. Angelo Spina, Archbishop of Ancona-Osimo. "This pandemic is not a punishment," concludes Most Rev. Paolo Giulietti, Archbishop of Lucca.
Other examples abound. We are witnessing a kind of competition to see who will deny most bluntly the idea that this epidemic might be a divine punishment. God does not punish, period. He cannot punish because, as Msgr. Enrico dal Covolo, former Rector of the Pontifical Lateran University, says, "God is love … the coronavirus is not divine punishment."
These statements contradict the Church's Magisterium and the consensus of the Doctors, as well as several apparitions recognized by the Church in which Our Lady explicitly speaks of punishment. The Church always deemed, at least as a theologically valid hypothesis, that misfortune can also be interpreted as divine punishment from which God derives some good such as the conversion of repentant sinners. In this sense, there are endless quotations from Popes, Fathers, Doctors, saints, and councils. Consider just one. In the General Audience of August 3, 2003, Pope John Paul II said: "God uses punishment as a means to call otherwise deaf sinners to the right path."
Today, however, a kind of Inquisition severely punishes those who dare to say that God punishes. They can chastise, God cannot. Why this insistence?
Without judging intentions, we can raise a hypothesis.
Strictly speaking, sin can only be committed by a person with moral responsibility. Analogously, however, one can speak of collective or social sin. "One can and must speak of social sin, and also of 'structural sin' in an analogical sense, since sin is properly an act of the person," taught Pope John Paul II in his concluding homily at the VI General Assembly of the Synod of Bishops on October 29, 1983. An example would be abortion. One thing is the personal sin committed by those who practice or induce abortion—the woman, the doctor, the health care worker, the social worker that directs women to abortion, and so on. Another thing is the sin of a society in which abortion has become the law of the land with public funding and facilities. By analogy, this is a "social sin."
According to Church doctrine magnificently expounded by Saint Augustine, for example, this type of social or structural sin deserves punishment on this Earth because societies have no immortal soul and, therefore, cannot be rewarded or punished in the afterlife. Wars and misfortunes can constitute divine punishment for the collective sins of men, with which God lovingly calls them to conversion.
At Fatima, Our Lady spoke of the two world wars of the last century, and then of communism, as "punishments for the sins of mankind."
Which collective sin would be attracting this whole series of punishments?
We can easily identify the situation created as a result of that centuries-old crisis that Popes and Catholic thinkers have called Revolution. A Revolution of a liberal and egalitarian character which, rooted in the innermost depths of the human soul, extends to all aspects of contemporary man and all his activities. Unfortunately, this crisis has also penetrated the sacred bosom of Holy Mother Church, dragging her into the process of "self-destruction" denounced by Pope Paul VI.
In this context, "converting" would mean rejecting this centuries-old revolutionary process and proclaiming its exact opposite. "If the Revolution is disorder, the Counter-Revolution is the restoration of order," explains Plinio Corrêa de Oliveira. "And by order, we mean the peace of Christ in the Reign of Christ, that is, Christian civilization, austere and hierarchical, fundamentally sacral, anti-egalitarian, and anti-liberal."
Such a conversion would imply repudiating dominant aspects of our much-venerated "modernity" and its ecclesiastical version, the so-called aggiornamento. Most people do not want to do this.
Thus, they proclaim "all will be well," and "God does not punish." A wicked pact between secular powers and some ecclesiastics keeps our society on the tracks of this Revolution. What would the prophet Zephaniah say?
For our part, let us take advantage of this pandemic to beat our chests and pray:
"O my God, I am heartily sorry for having offended Thee, and I detest all my sins because of Thy just punishments, but most of all because they offend Thee, my God, Who art all good and deserving of all my love. I firmly resolve with the help of Thy grace to sin no more and to avoid the near occasion of sin."