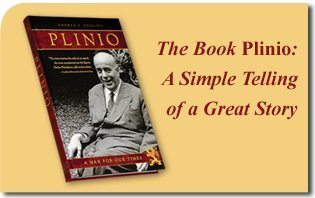 About the lives of great men, there are always many who tell their stories. No doubt this will be true of the great Catholic intellectual Prof. Plinio Corrêa de Oliveira about whom much has already been written. Andrea F. Phillips' Plinio: A Man for Our Times is a delightful addition to defining this man.
The book does not aspire to great scholarly analysis nor hold the pretention of being a definitive biography. Rather, it tells a simple story from the perspective of an admirer. This unpretentious work, writes Mrs. Phillips, "is intended to highlight aspects of Plinio Corrêa de Oliveira's unique personality in a light style, presenting, as it were, a series of frescoes of his exceptional life."
In an accessible and warmly captivating way, the author tells not only his story but a bit of the history and cultural atmosphere of Brazil and the Church of the time. The reader learns of his birth and his loving mother, Dona Lucilia Ribeiro dos Santos. There are plenty of short episodes from his early youth to show the roots from which developed the character of this great champion of the Catholic cause.
The reader follows the rise of Plinio as a student leader, congressman, Catholic leader, writer and orator. His life is told, often using his own words, not only from the point of view of his political achievements but also those elements that marked his spiritual life such as devotion to the Blessed Virgin, the Holy Eucharist and the Papacy.
Life has its vicissitudes. His biography would not be complete without sharing many trials and misfortunes that befell him as he fought against Nazism, Communism and the first seeds of progressivism inside the Church during the thirties and forties. All this was the foundation of the slow but sure building of the Tradition, Family, Property (TFP) network of autonomous sister organizations that later spread worldwide. It is easy to see why his spiritual and intellectual legacy continues to our days.
There will be other books written about Prof. Plinio Corrêa de Oliveira. However, this book is almost like a personal introduction by the author who knew him. It is a short meeting with him and an invitation to delve deeper into his work. The book is marked by a rare quality in our egoistic world since it is written through the unique prism of admiration. With such qualities, the reader will not be disappointed.
You can order your copy of Plinio: A Man for Our Times today
from The American TFP's online store:
https://store.tfp.org/products/Plinio.html#