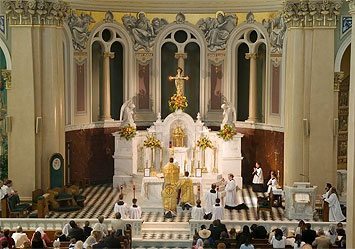 On June 15, the American Society for the Defense of Tradition, Family and Property (TFP) participated in one of the first Masses of newly ordained Father Jonathan Romanoski in Saint Patrick's Cathedral in Harrisburg, Penn. The event was historic, because it was the first Latin Mass celebrated in the cathedral in over forty years. Father Romanoski celebrated a beautiful Solemn High Mass. Thus, he was assisted by two other priests from the Priestly Fraternity of Saint Peter: Father Eric Flood and Father Frank Parrinello, who served as Deacon and Subdeacon respectively.
The American TFP choir sang the Mass in Gregorian chant. Besides the usual responses, they sang the centuries-old "Gaude Felix Francia" as a processional and finished with the Pontifical Hymn.
About four hundred Catholics from all over the Harrisburg area attended the event. Latin Mass promoter Bob Charleton commented: "It's been 45 years. I never thought I would see this again. This Mass filled my heart with unbelievable joy."
After Mass, there was a reception in the Cathedral hall where locals catered a late lunch. The room was full of lively conversation, while Father Romanoski gave his first blessing to all who wished to receive it.