On June 6, the fifty-state rosary rally caravan had a new target: Charleston, the capital of West Virginia. The van of volunteers heading to the picturesque mountain city capital had already visited several Southern state capitals, including Tallahassee, Florida; Montgomery, Alabama; and Atlanta, Georgia. The Mercy on America campaign is a special project of the American Society for the Defense of Tradition, Family and  Property (TFP).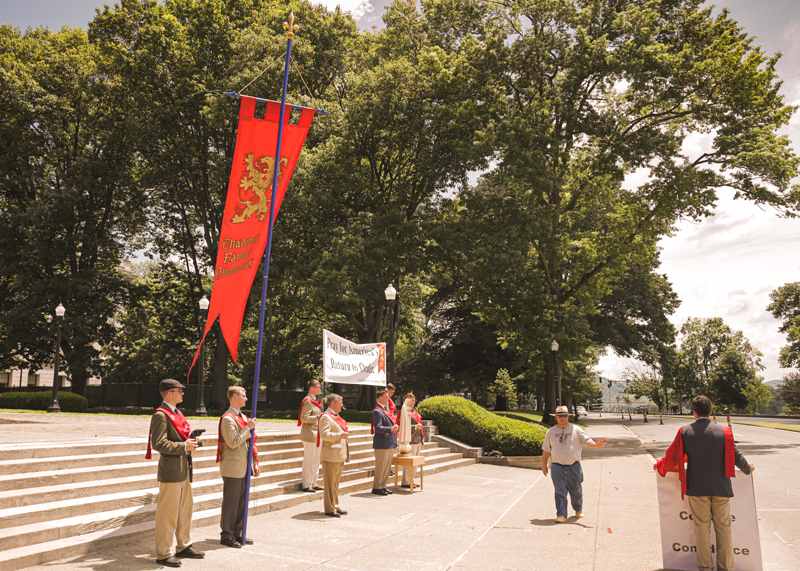 Upon arrival in front of Charleston's neo-classical style capitol building, the TFP volunteers raised their scarlet and gold standard and then assembled around a large statue of Our Lady of Fatima to pray the fifteen decades of the Holy Rosary.
The Rosary was offered up for America's speedy conversion and return to order. The Rosary is the important weapon that Our Lady asked the faithful to pray to defeat the devil and obtain true world peace.
Throughout the Rosary rally in Charleston, many cars enthusiastically honked when they saw the signs saying: "Honk to Rebuild America" and "Honk to Reject Socialism."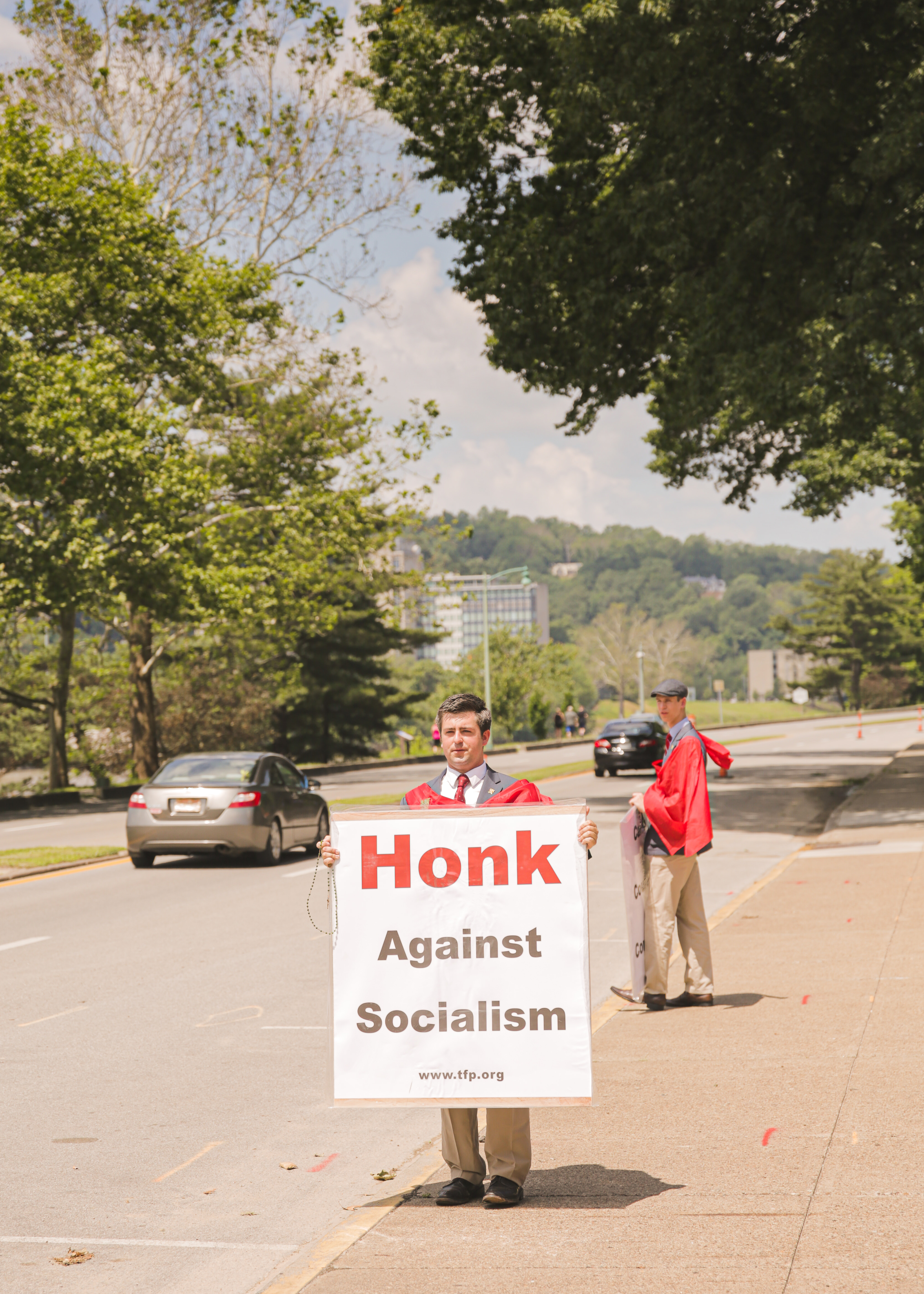 One man shook his head disapprovingly after he read the banner, which said, "Praying for America's Return to Order."  Barely audible, he muttered, "shame" under his breath. What was so shameful about praying for America at this chaotic time in its history?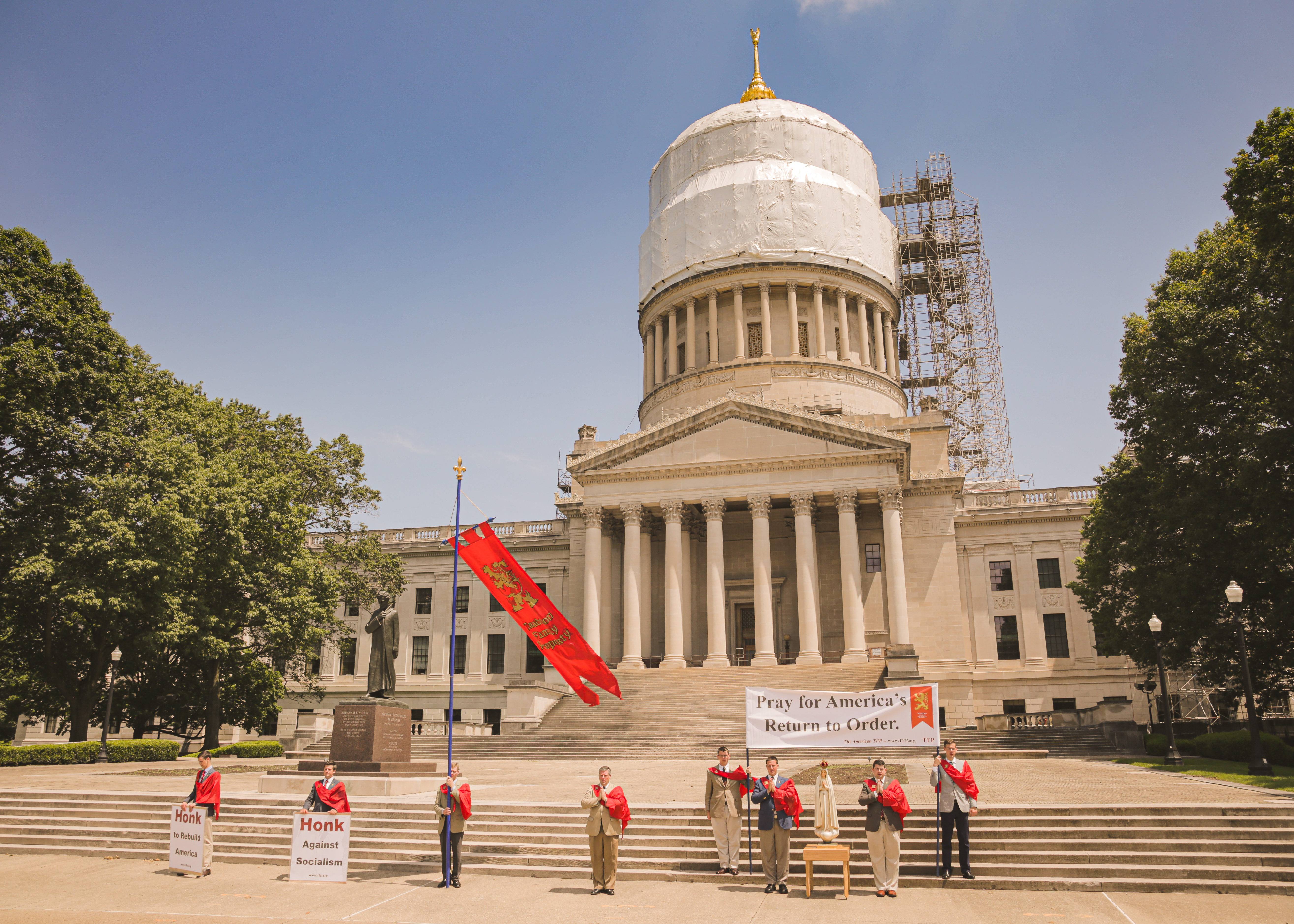 Another younger man wearing a face mask sat down on a wall directly across the street from the campaign. He watched the TFP members pray for nearly half an hour. Loud pop music could be heard playing from his phone as if to drown out the Rosary prayers. He would periodically raise his phone to take videos.  When the Rosary rally finally ended, the man stood up from the wall and shouted, "Black lives matter" from across the street. When a few TFP members tried to engage him in a debate, he only continued shouting the same phrase.
Rosary Rally in Frankfort, Kentucky
The caravan arrived in Frankfort in the afternoon and set up in front of the capitol building right away. Braving the hot afternoon sun like true crusaders, the TFP members prayed 15 decades of the Rosary in front of Kentucky's imposing state capitol building.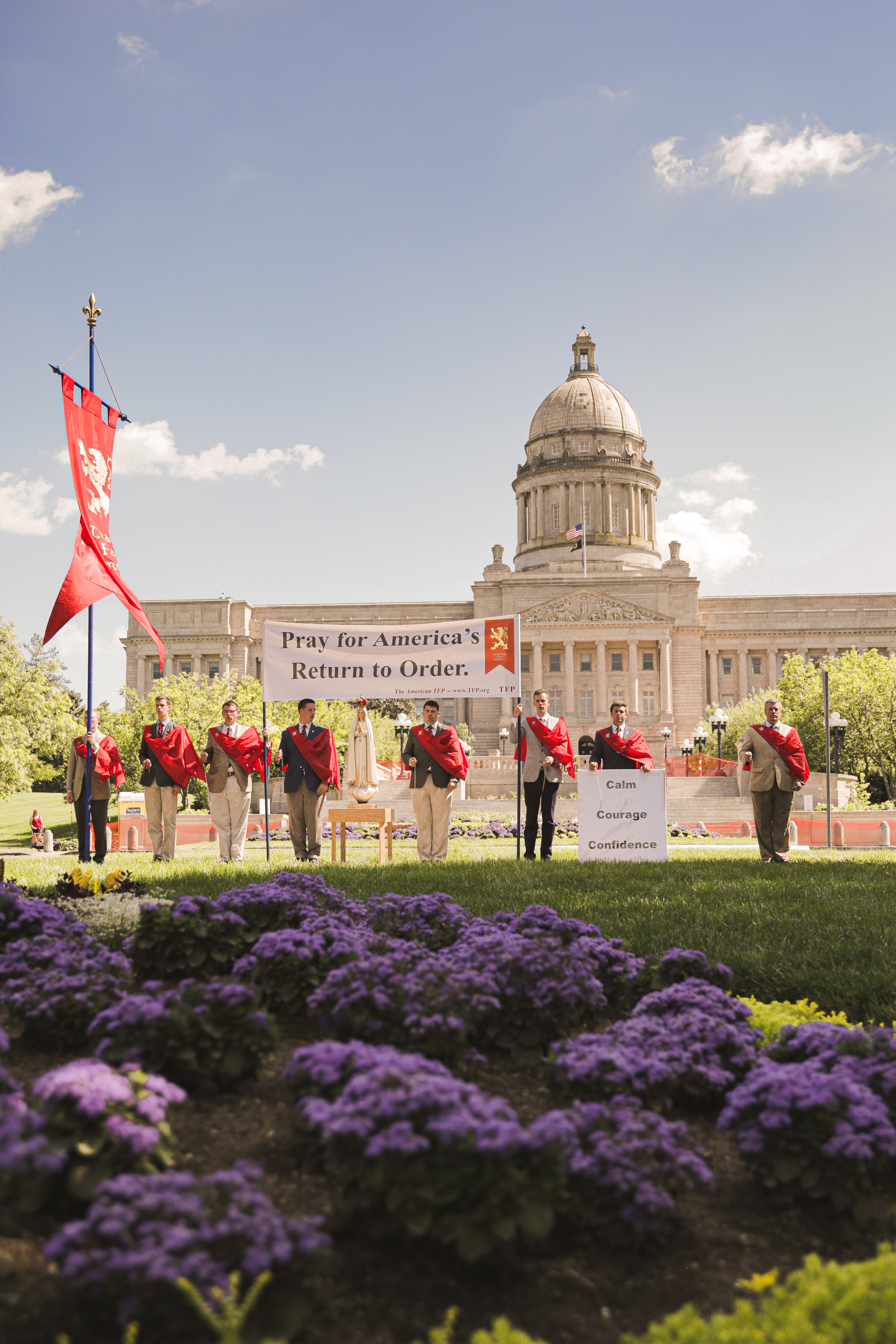 Even in the hottest weather, Our Lady looks after her children. During the Glorious Mysteries of the Rosary, a gentleman in a car offered the volunteers several cold bottles of water.
The local citizens showed approval of the rally with thumbs up and friendly waves. One father with his family walked by saying: "I would have honked if I had a horn."
Our Lady of Fatima! Pray For Us!