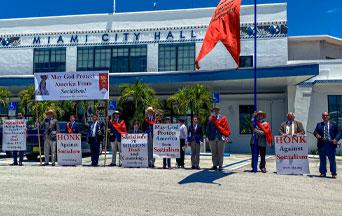 "I studied Marx, so I know how stupid [socialism] is" was one of the many expressions of support the ten volunteers of the American Society for the Defense of Tradition, Family and Property (TFP) received.
On July 4, 2022, the TFP launched a weeklong street campaign throughout Florida to denounce the evils of socialism. Taking St. Anthony Mary Claret, the great apostle of Cuba as their patron, TFP volunteers held their first campaign in Miami.
"Socialism Has Plagued My Country"
Despite the oppressive heat, the young volunteers campaigned outside Bayside Mall in downtown Miami. They unfurled the crimson TFP standard with its golden lion, held a banner that read "May God protect America from socialism," and gave out "10 Reasons to Reject Socialism" fliers.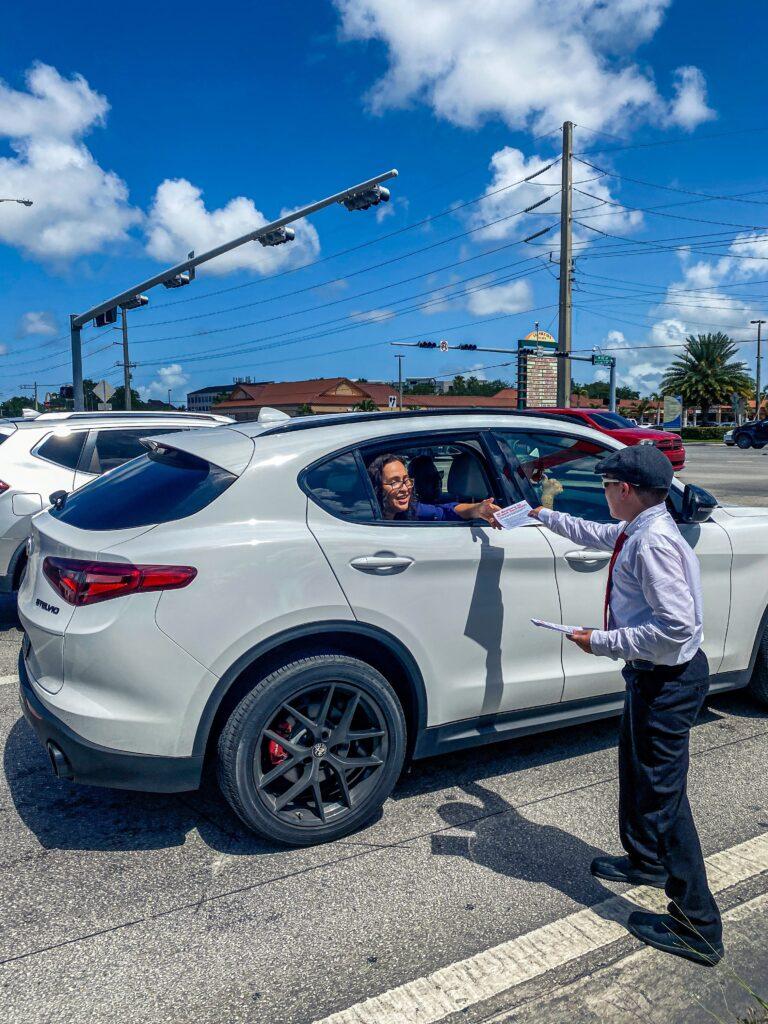 A Venezuelan introduced himself. "We need to fight against this," he said. "Socialism has plagued my country."
Socialism Persecutes Catholics
After this campaign, TFP volunteers went to the historic Gesu Church to pray before a statue of Our Lady of Charity, patroness of Cuba, for the end of socialism and the freedom of Cuba from communism. This same statue had accompanied the anti-communist Cubans who participated in the failed Bay of Pigs invasion.
One man in the church noticed the TFP's anti-socialist flier. He pointed out that if socialism is allowed to spread in America, the Church will be restricted and persecuted as She is in Cuba, China, and Russia.
Campaign in Little Havana
Next stop: Calle Ocho (8th Street) at the heart of Little Havana. As Cubans peacefully played dominos in the famed Domino Park, TFP members cried out slogans and shared fliers.
One young man excitedly told the TFP members that he watches TFP Student Action YouTube videos and follows TFP activities closely. He explained that he was on a twelve-hour layover in Miami, and a friend had dropped him off on Calle Ocho for a quick visit. He asked if he could join the campaign, which he did for over an hour.
Two more people recognized TFP.
"I was just watching one of your videos," one man said.
Another woman said, "Wait: is this America Needs Fatima? I am one of your subscribers."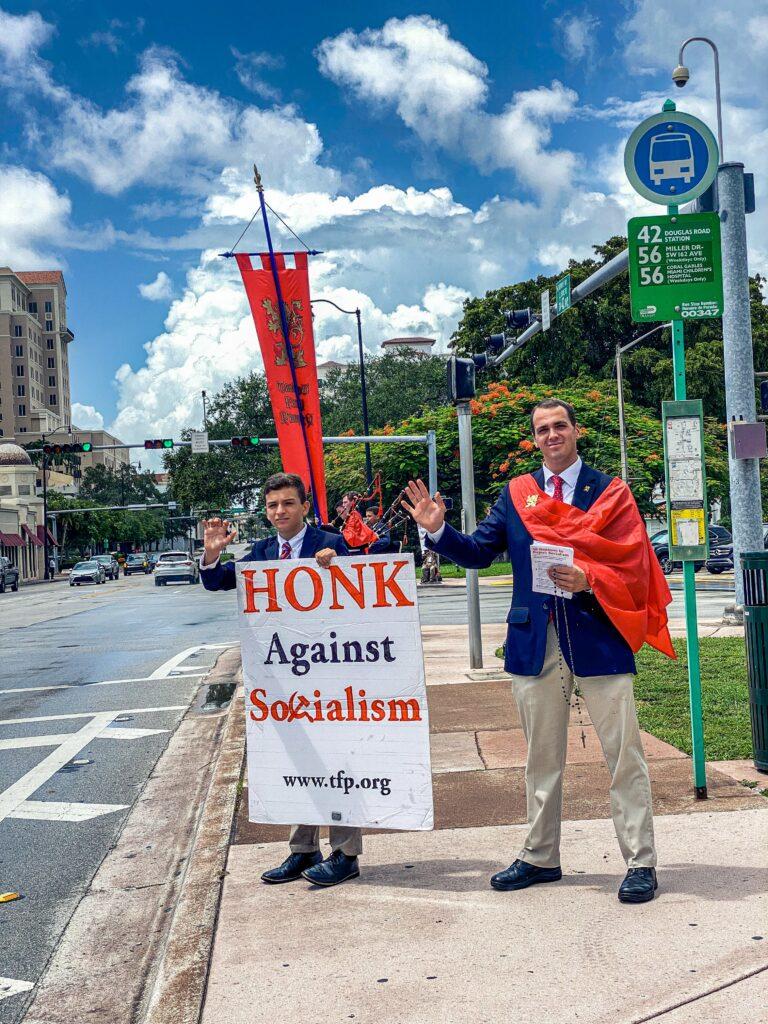 Many passersby were Cuban, and their typical response was, "You don't need to convince me that socialism is evil. I am from Cuba." A former professor who once taught chemistry in Cuba said: "I was forced to study socialism in Cuba, so I know a lot about it. I studied Marx, and I know how stupid it is." As he spoke, a pro-socialist man started debating one of the TFP volunteers. But the Cuban professor verbally went after him, explaining how socialism had ruined his country.
Last stop: Versailles Restaurant, considered the most famous Cuban restaurant in the world. Outside diners met the TFP campaign with applause.
Battle of Ideas
Visibly moved, a Cuban told one of the TFP members, "This is good, but paper is not enough," referring to the flier. The TFP volunteer replied, "Yes, but you must remember that the battle of ideas is much greater, and this is a spiritual battle."
"I agree," he replied.
We must oppose socialism not only in practice but in principle. TFP member Zechariah Long explained, "The principles of socialism directly attack the ideas of Tradition, Family, and Property, which are the three pillars of Christian Civilization. This is why it should be denounced, opposed, and rejected."
St. Anthony Mary Claret, pray for us!