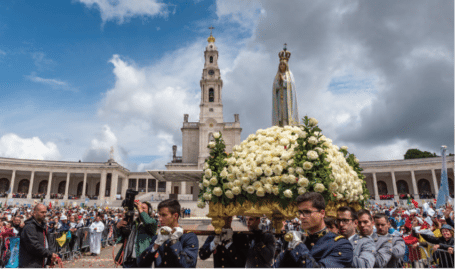 At the time of the Fatima apparitions, no water sprung from the ground, as it did in Lourdes, France.
Nevertheless, the lack of water in and around Fatima was a very real problem and a difficult one to solve. That difficulty was exacerbated by the nature of the limestone and porous terrain in that area and its surroundings, unable to conserve moisture.
In order to have water in their homes, the inhabitants of Fatima and neighboring villages were obliged to gather the rain water that dripped from the eaves of their houses in reservoirs.
And then the Fatima apparitions began to take place. How and when could pilgrimages made by hundreds of thousands of people to a place deprived of water such as Cova da Iria take place? Humanly speaking, it seemed utterly impossible. Here once again, the action of Divine Providence made itself seen; where human action had failed, Divine help surely came. It began on November 13, 1921.
Soon after the first open-air Mass was celebrated in the Memorial Chapel of the Apparitions, it became obvious that water in large quantities was needed for the planned buildings. The Bishop of Leiria had the good inspiration to search for water and commanded that a well be dug at the bottom of Cova da Iria, precisely in the place the shepherd children occupied at the time of the first appearance.
In obedience to the zealous prelate, workers opened a small ditch and were surprised to watch a spring with clear and abundant water sprout a few steps from the sacred oak tree.
Some peasants had laughed at the bishop's idea, claiming it was a waste of money. After all, he was just an outsider and did not know the ground. "I don't know how to explain this," one of the surprised bystanders said. "There's simply nothing here, there's no way any spring could come up. It must have been a miracle from heaven… or from the bishop."
The episode took place around 9:00 p.m. on November 13, 1921. Shortly afterward, as the water was not sufficient for all the pilgrimages, the bishop ordered another two wells to be dug a few meters from the first, and water sprouted again just like the first time.
From then on there was never a shortage of the precious liquid, either to supply buildings or pilgrims, who haul large quantities of the water to their homes.
Even today, water from various sources is collected in a large reservoir built in reinforced concrete which forms the base of the monument to the Sacred Heart of Jesus.
The Miraculous Springs
The miraculous springs form a circle roughly 2 yards high by 10 yards in diameter, in the shape of an emptied gas tank as can be commonly seen in major Portuguese cities. Its circular shape facilitates supplying the large amounts of water required during great pilgrimages. Fifteen taps—as many as the mysteries of the Rosary—are placed all around the wall.
On top of the fountain platform and next to the taps are posted a number of young people in charge of distributing all the water the pilgrims may need.
A notice over the fountain says the water is free and it is expressly forbidden to give or receive tips for providing it. On both sides of the fountain are gaps formed by the landfill or wall of the central avenue.
In the days of great pilgrimage, just after the first open-air Mass, a huge crowd buzzes from early morning and parks at the site of the miraculous source, eager to fill up containers with the beneficial and healthy water.
The slight impatience of those in a hurry is easily contained by volunteers who prudently but firmly control access to the taps. People line up from early morning to late afternoon in order to get their supply of the precious liquid.
Pilgrims fill containers of all sizes and shapes and take them to their homes in distant lands in the hope of healing a friend or relative with that water, or at least alleviate their sufferings.
First-Hand Reports
From the journal Voz da Fátima, we transcribe below some descriptions of the miraculous springs. A quick look shows that in almost all cases the supernatural intervention takes place by applying or using the miraculous water. Here are a few, summarized examples:
My condition was extremely serious, and having received the last rites I was close to death. Then with the liveliest faith I drank the wonderful water of Our Lady of Fatima that a pious lady gave me. I felt a great relief at the first spoonful that I ingested. A novena to Our Lady of Fatima followed. When it ended I had entirely recovered. My gratitude to Our Lady will be eternal. —Arminda dos Anjos
For 12 years I had been suffering severe pain in my stomach and intestines. With the greatest possible devotion I said a novena to Our Lady of Fatima, drank her miraculous water for three days and soon found a quick recovery; the pains never came back. I thank Our Lady of Fatima with all my heart for such a great grace. —Fernanda Franco
I was suffering terribly…consulted some specialists…to no avail…until I remembered to make a novena to Our Lady of Fatima and applied a few drops of her miraculous water every day of the novena. When it ended I was entirely cured… Infinite thanks to the Blessed Mother of God. —Evandra C. Ferreira
Adelino Pinto, aged 22, had gone mad. A pious person advised his poor mother to make a novena and gave her a medal to hang on her son's neck, a few drops of Fatima water, and a little holy card of Our Lady of Fatima which he kissed in his madness. After a month he recovered his reason and is totally fine to this day.
Published in Crusade Magazine, Vol. 144, November/December, 2016, pp. 8-9.
Adapted for English readers from the book Novos Esplendores de Fátima (New Splendors of Fatima), by Father Valentim Armas, CMF, published by Editora Ave Maria, São Paulo, 1944, pp. 209-212.
Updated October 25, 2021.