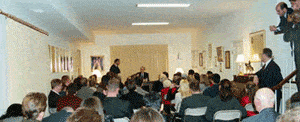 To hear about the great counter-revolutionary Pope Pius IX, American TFP friends and supporters filled the auditorium at the TFP Washington Bureau in McLean, Virginia. The January 27 talk, "Blessed Pius IX: A Pope for All Seasons" was delivered by Prof. Roberto de Mattei, noted writer, lecturer, and president of the Lepanto Cultural Center in Rome.
The exposition was limited to the thirty-year pontificate of Blessed Pius IX. Prof. de Mattei spoke of many revolutionary maneuvers to overthrow the pope and debunked many of the myths surrounding his reign. He showed how opposition to Blessed Pius IX was above all ideological since it sprung from the anti-Christian and liberal currents that dominated the political scene of the day.
Drawing from his recent book on the subject, Prof. De Mattei also listed the impressive accomplishments of this papacy. He especially highlighted the proclamation of the dogmas of the Immaculate Conception and Papal Infallibility as crowning achievements. He noted the astounding worldwide growth of the Church during this difficult period.
The TFP Washington Bureau was pleased to have a number of students and professors at the talk including Prof. William Marshner and 15 students from Christendom College in Front Royal, Virginia. The exposition, a lively question-and-answer session and the after-talk conversation proved to be a stimulating evening for all present.