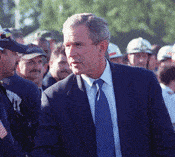 In a December 18 letter, the American Society for the Defense of Tradition, Family and Property (TFP) showed its appreciation to President George W. Bush for following through with his promise to withdraw from the Anti-Ballistic Missile treaty. As the President recently stated, the treaty, "hinders our government's ability to develop ways to prevent our people from future terrorist or rogue state missile attacks."
By withdrawing from the treaty, President Bush showed the courage and political will to do what is right for America. Deploying a multi-layered missile defense system, as soon as it is technologically feasible, will ensure the protection of our country, in the uncertain days ahead in post-9/11 America.
The TFP noted that the president's decision also disproved naysayers who were predicting an imminent diplomatic disaster to befall us if we withdrew from the treaty. On the contrary it demonstrated once a again the wisdom of the ancient adage, si vis pacem, para bellum (if you want peace, prepare for war).
The TFP letter pointed out hopes that the efficacy of this action will be starkly clear even if it stops just one nuclear warhead aimed at a major American city, thus saving millions of lives.