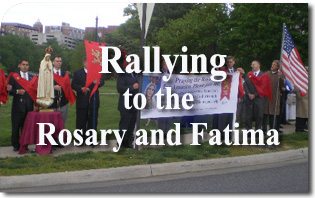 Usually conferences are held in comfortable hotels with all the amenities to make the experience uneventful. However, at the American TFP's National Spring Conference in Kansas City, participants suddenly found themselves outside on the sidewalk of a busy intersection with blustery winds praying the Rosary.
Such was the program at the April 21-22 event which mixed a lively program of talks with "hands-on" experience. The theme of the spring conference was "Why the Rosary and Fatima will Decide Our Future." A special emphasis was given to the America Needs Fatima Public Square Rosary Rallies. Naturally, the theory of how to organize rallies led to actually holding a rally at the nearby Country Club Plaza as part of the conference.
Many of the participants were in fact rally captains from across the country. They came to hone their skills for the coming rallies later in October. To this effect, conference organizer Michael Drake spoke on the lessons learned from the rallies over the years. TFP Student Action director John Ritchie held a lively talk/workshop on "Ten Ways to Improve Your Rosary Rally and Reach More Souls." Mr. Kevin Ritchie made the connection between the rallies and the triumph of the Immaculate Heart of Mary promised at Fatima.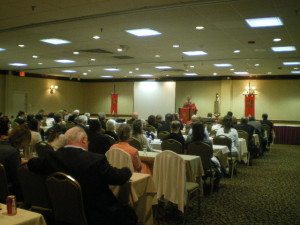 A focus of the conference was also the timeliness of the Fatima message to our days. TFP speaker Michael Whitcraft gave a masterful presentation on applying the message to the present situation of the United States. American TFP Vice President John Horvat spoke on how Fatima calls Catholics to heroic sanctity.
Other speakers included Mr. Mario Navarro da Costa of the TFP's Washington Bureau who showed how the life of TFP founder Prof. Plinio Corrêa de Oliveira is an example of how one committed Catholic can make a difference. TFP speaker and author Norman Fulkerson demonstrated why devotion to Our Lady is crucial for the times while Cesar Franco from TFP Louisiana gave an excellent talk on the need for confidence in the Blessed Mother. Byron Whitcraft of the TFP-run St. Louis de Montfort Academy put together and presented a general history of the TFP and its America Needs Fatima campaign.
The occasion proved to be an excellent opportunity for TFP supporters, old and new, to meet, converse and exchange ideas. It also served as a public witness to the fact that the rosary and Fatima need to be in the public square now more than ever!