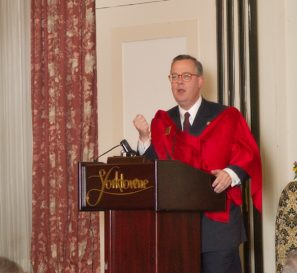 American TFP spokesman Preston Noell claimed clarification is needed on an interdisciplinary course on homosexuality to be offered at Villanova University near Philadelphia. In a statement to The Villanova Times, Mr. Noell noted "the academic niceties" of a course description on homosexuality at the Catholic university does little to allay his fears that "the traditional teaching of the Catholic Church will not be persuasively presented and defended when the course is given."
According to the course description, "Ideas and Texts: Constructing/Deconstructing Sexuality" will present "a context for the debate between nature and nurture in the development of sexual orientation." While discussing the "contemporary positions of the Vatican and U.S. Catholic Bishops on how societies should respond to homosexual persons," the course does not appear to affirm the traditional teachings of the Church on the matter.
The traditional teaching of the Church teaches that the practice of homosexuality need be roundly condemned as a sin against nature, and intrinsically disordered. Mr. Noell said he hoped "that anyone taking this course will place neither himself in a near occasion of sin, nor lose his soul in the process."
Class is Cancelled
In a victory for Catholics at Villanova, the course, "Ideas and Texts: Constructing/ Deconstructing Homosexuality," has been canceled this semester. Controversy erupted when the class was first introduced. "Villanova is a Catholic University, and our religion condemns homosexuality. Why teach a course on a subject that is not welcome?" said freshman William Opal.
The university had approved the class, in spite of the course description which suggest a conflict with traditional church teaching: "…an epistemology concerning notions of homosexuality and sodomy in western culture will be explored. These biological and historical facts will then allow for an analysis of contemporary Queer Theory…"
Opposition also came from outside the university. In an interview with The Villanova Times, American TFP representative Preston Noell commented, "I hope sodomy will be roundly condemned as a sin against nature, as acts of grave depravity, and intrinsically disordered." Also, an appeal posted on this website a couple of weeks before the course's cancellation called on readers to send a protest e-mail to the Department of Mission Effectiveness at Villanova.
Proponents claimed there were not enough students who signed up for the course this semester, but wish to reintroduce the class in the spring of 2001.