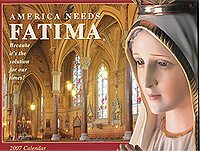 The 2007 America Needs Fatima calendar has just been mailed to 110,000 people across the nation. This year's calendar has pictures of the miraculous International Pilgrim statue of Our Lady of Fatima, superimposed over photographs of beautiful American churches.
A brief introductory article in the calendar recounts that on October 13, 1917, over 70,000 people saw the sun dancing in the sky in Fatima, thus fulfilling the promise Our Lady made to Sr. Lucy: "I will work a miracle that all will see, so as to believe." When it was all over, spectators realized that their clothing and surroundings, which had been soaked for hours with rain, had suddenly dried.
This miracle, one of the most widely-witnessed in history, was intended to rejuvenate Faith and give hope in the victory of Our Lady's Immaculate Heart, which was also promised at Fatima when the Blessed Mother said: "Finally my Immaculate Heart will triumph." Hope in this promise becomes ever more important as mankind increasingly turns its back on Our Lord, Our Lady and Holy Mother Church.
In this light, the new America Need Fatima calendar can serve as a daily reminder of Our Lady's promised victory throughout 2007.