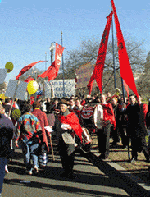 Tens of thousands of anti-abortion protesters from across the nation gathered on January 22 in Washington DC for the 29th March for Life. Members and supporters of the American Society for the Defense of Tradition, Family and Property (TFP) were among the participants, appearing with their characteristic standards and its marching brass band.
In a statement titled "The Challenges We Face," the American TFP remarked how the post September 11 marchers were "united as Americans but greatly concerned with the moral issues that divide our nation, especially the continued slaughter of innocents."
Indeed, march organizers were able to unite over 80,000 Americans. Large numbers of priests, religious and lay Catholics packed the area near the Washington monument where the march started. At the prayer vigil held at the Basilica of the Immaculate Conception the night before, seven U.S. Cardinals, 50 Bishops and 260 priests attended.
Evident were large grassroots delegations from Pennsylvania, Ohio, New York, New Jersey, Missouri, Kansas, Rhode Island and other states. Political leaders spoke at the pre-march rally. Especially welcome was President George W. Bush who spoke via telephone from West Virginia. He encouraged the crowd, to continue their "hard work and dedication" and affirmed his commitment for a comprehensive and effective ban on human cloning.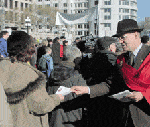 Among the congressmen addressing the throng, Rep. Chris Smith (R-NJ), chairman of the Congressional pro-life caucus spoke out against the lukewarmness of political leaders. "Our lukewarmness in government has enabled a holocaust of over 40 million children," Rep. Smith said.
This year's TFP public declaration warned that while America's fight against terrorism has prompted a "passionate zeal to find shared principles, we cannot allow this affinity to overshadow principles not shared."
This is especially true of the "cultural war" where a cultural climate of violence, promiscuity and blasphemy creates the conditions for abortion to flourish. There is no ceasefire in the abortion killing fields and those against abortion must redouble their efforts.
The TFP also addressed the matter of stem-cell and human cloning research, which it termed a "biogenetic Tower of Babel challenging God the Creator."
Part of the Polish contingent.
"The key to our national well-being," the statement concluded, "will never be found in choices that violate the moral and natural order."
The March for Life 2002 coincided with the end of an American TFP weekend of studies for young American and foreign students at its headquarters in Spring Grove, Pennsylvania. The American TFP contingent therefore was proud to have representatives from France, Germany, Brazil, Poland, and Ukraine.
The American TFP was also pleased to welcome friends from foreign anti-abortion organizations. Members of France's Droit de Naître and Germany's SOS Leben (Deutsche Vereinigung für eine Christliche Kultur) encouraged many American who found these new allies in the abortion struggle.
Click here to read the complete text of "The Challenges We Face"