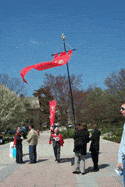 After issuing a public statement on the EP-3 surveillance plane incident, the American Society for the Defense of Tradition, Family and Property (TFP) has now launched a campaign to take this issue to the man on the street.
The TFP document, "Shattering Myths: A Reality Check on China," points out how successive American administrations have pursued a China policy based on the illusion that the Chinese would abandon communism through dialogue. It was published in The Washington Times (April 18).
As part of the distribution campaign, TFP "caravans" will be visiting major cities nationwide. These traveling groups of young men carry out street campaigns in characteristic TFP style with their large red standard and capes. The impact on the public is striking.
"Our goal is to reach every major city in the country," said Mr. Norman Fulkerson, a caravan leader. "I've got a very young and idealistic crew and I am amazed at how much impact this has on the general public."