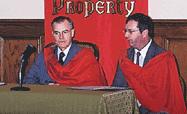 On October 6 – 7, Monsignor Michael R. Schmitz, Vicar General of the Institute of Christ the

Sovereign King, His Imperial and Royal Highness Prince Bertrand of Orleans-Braganza and 150 American TFP supporters and friends met at a TFP Conference at its headquarters in Spring Grove, Penn., to analyze current events from the Fatima perspective and spread a much needed hope for life in the post-September 11 world.
Following Mass celebrated by Msgr. Schmitz, His Highness Prince Bertrand gave the opening address. He outlined the importance of the message Our Lady brought at Fatima for understanding world events at the dawn of the Third Millennium.
After the opening address, TFP Director John Horvat presented the meeting, "A Stronger Dream." He analyzed the causes of the brutal September 11 attacks as the beginning of a postmodern war where the US was targeted for its structures of order. He spoke of how the whole American order was symbolically shaken and what the proper reaction might be.
TFP Campaign Coordinator Norman Fulkerson gave a special presentation using the historic example of St. Joan of Arc. His lively talk, "The Voices Didn't Lie" illustrated how God never fails those who trust in Him. Writer Joseph D'Agostino offered his considerations on the Cultural Revolution and the nature of Islam, providing timely insight into present day events.
Other speeches highlighted the timeliness of the Fatima message today. Between talks, participants had time to converse and share their impressions. Before dinner, conference attendees participated in a long candlelight rosary procession with an exact replica of the famous and miraculous Pilgrim Virgin of Our Lady of Fatima.
Before Sunday Mass, a statue of Our Lady of Fatima was carried in solemn procession to the sanctuary and a rosary was prayed on the Feast of Our Lady of the Rosary, and the anniversary of the Victory of Lepanto in 1517. The Mass was celebrated by Msgr. Schmitz at St. Patrick's Church in York, Penn. and sung by the TFP Choir. The Mass, attended by over 250 people, was celebrated in the Traditional Tridentine Rite. It ended with a moving rendition of the Papal Hymn with organ, trumpet and choir.
During the closing dinner, conversation was lively as old friends and new, united by a common Faith prepared to face the struggles of the post-September 11 world with renewed hope.