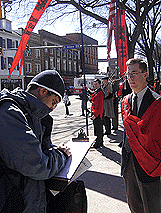 A motivated contingent of twenty-five TFP members and St. Louis de Montfort Academy students traveled to Penn State University on Monday morning, March 14, to rally for Terri Schiavo's survival.
TFP's presence at the busy intersection of Allen Street and College Avenue in State College was eye-catching. Three bagpipers filled the crisp air with highland melodies, resounding across campus, as hundreds of students signed a petition to bar the forced starvation of Terri, possibly euthanasia's next victim.
Different Reactions
On the sidewalks, a steady stream of people paused to defend innocent life with their signatures. "Let me sign that," said a concerned woman. "I doubt they would treat a dog the way they are treating Terri. I hope this petition makes a difference. Keep up the good work!"
Refusing to sign the petition, another woman said: "I'd rather spend my money starving people."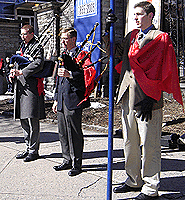 A pro-homosexual activist stood on the street corner where Peter Miller was collecting petitions. For a half-hour, he pestered anyone who approached to sign for Terri. "No… Don't. Don't sign their petition," he would say. "They're a far right-wing organization. They're against gay marriage."
Another person remarked: "People that aren't enjoying quality life don't deserve to live.
Here is an excerpt of an animated debate TFP volunteer Cesar Franco had with a student:
Student: "Why are you so worried about one person [Terri Schiavo] when so many people are dying in Iraq?"
Cesar Franco: "Can I ask you where you stand on euthanasia?"
Student: "You hypocrite, you don't know how to debate."
Cesar Franco: "That doesn't answer my question. Do you support euthanasia?"
Student: "Yes, I do."
Cesar Franco: "If you are in favor of killing the elderly, the helpless, you have no right to talk about lives in Iraq."
Student: Cursing, he walked away.
Read the TFP's Public Statement on Terri Schiavo
As Terri faces court-ordered starvation on March 18, and adding to TFP Student Action's efforts on college campuses, the American TFP published a full-page statement in The Washington Times, joining its voice to the numerous pro-life, pro-family organizations struggling to keep euthanasia at bay.
The statement, Saving Terri Schiavo: TFP Calls on America to Reject Roe v. Wade's Bitter Fruits, explains how the denial of natural law leads to tyranny. It also links abortion and euthanasia, two "rights" based on a false notion of liberty. If you are looking for solid answers that dismantle the lies of those pushing euthanasia, this statement will help you.