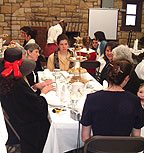 For TFP supporters and friends in Kansas, drinking tea became a learning experience. Now in its second year, the group held formal afternoon teas on the last two Saturdays in February. Fifty-eight mothers and daughters attended the first tea in Topeka and over one hundred were at a second one in Wichita.
During the introduction, participants agreed that at least some segments of society are tired of the coarseness, rudeness and vulgarity that is so prevalent today. The formal tea is a way of learning about good manners and then putting them into practice to counter today's dearth of manners.
The program consists of several presentations. The first was about Madame Elisabeth of France, the sister of King Louis XVI. She was chosen as a model of what a Catholic lady should be. The speaker mentioned that in today's world, virtue and courtesy are seen as weaknesses, whereas vice and coarseness are viewed as signs of strength. However, Madame Elisabeth was far from weak. She faced the mobs and her own death with tremendous courage and composure, which reflected her great inner strength.
The second presentation was about aesthetics, the study of beauty. Today's contemporary world often looks upon that which is truly beautiful with disdain and promotes that which is ugly as masterpieces of great art. Most can observe the difference, but not everyone can explain what make something beautiful. The speaker outlined the principles of aesthetics of St. Thomas Aquinas and used slides to help illustrate his points. This presentation gave those in attendance sound principles to use as ammunition when assaulted by the next example of contemporary "art."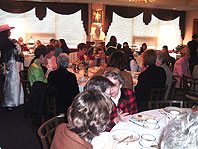 The next presentation was "hands on." Participants were taught the art of elaborate napkin folding. A short presentation on calligraphy was also given and guests completed their own place cards.
The final presentation before the tea itself was about the protocol of the tea. Since it was the first tea for some, guests were taught what to expect. The beauty and purpose of the tea was explained. For a Catholic, the formal tea is not some empty meaningless ritual, but rather an opportunity to take time out during the day to enjoy the company of one's companions in an elevated manner. The fine china, pressed table cloths, decoratively folded napkins, elegant silverware, delicious yet beautifully arranged snacks, and, ah yes, the steaming hot tea are all clear indications of the affection, honor and respect that the hostess has towards her guests.
Finally, the tea began. After a very pleasant afternoon, everyone left satisfied and happy after having experienced such an uplifting ambience. A number of guests commented on their desire to have such a tea in their parish or among their friends. One guest, a schoolteacher, even asked about having a tea for her seventh and eighth grade class.
Needless to say, a similar event is planned next year.