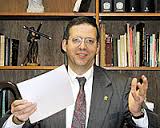 "History, Tradition and Education" was the theme of the Eleventh Foundations of Education Symposium held on November 10 at Washburn University in Topeka, Kansas. The one-day event was organized by the school's Prof. G. Daniel Harden who put together an exciting program attended by students, teachers, scholars, officials and concerned citizens.
In keeping with the theme, American TFP Vice President John Horvat presented the opening paper on "Why Teach History." His talk focused on the need to teach history honoring those of the past. He also stressed how history must be connected to the present and free from politically correct agendas.
Other speakers included Prof. Gregory Schneider from nearby Emporia State University who spoke on "How High is Higher Education?" Bestselling author Dr. Thomas Woods spoke on his book, The Politically Incorrect Guide to American History. Dr. Harden himself was a speaker who offered some reflections on his fifty years in education.
In another event related to history in the Kansas capital, Mr. Horvat held a local launching for the American TFP's Meet the Witnesses book for local friends and supporters on November 9. The book relates eye witnesses accounts of Fatima's historical "Miracle of the Sun."