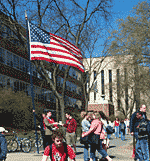 From Monday, April 14 to Wednesday, April 16, TFP Student Action hit the streets of three major east coast college campuses as part of its campaign in defense of the legitimacy of just war.
Student Action visited the Pennsylvania State University of University Park, Pennsylvania, George Washington University of Washington D.C., and George Mason University of Fairfax, Virginia, passing out over 6,000 fliers and taking more than 500 surveys.
The flier was a summary of the full-page advertisement published by the American TFP in The Washington Times on March 27, 2003 titled "Just War and the Passivist Offensive on Sovereignty." It delves into ten points on the legitimacy of war based on natural law and Catholic Social Doctrine according to the Magisterium and the Fathers and Doctors of the Church. To read the full text of this article, click here.
"We are doing several flier and survey campaigns in the D.C. area to build support for the legitimacy of just war," said John Ritchie, head of Student Action. "Many people, and unfortunately many Catholics, affirm that war can be waged in theory, yet deny that it can ever be good in practice. With such confusion stemming from the waves of anti-war protests and debates, Student Action seeks to shed some light on the Church's perspective on this issue among university students."