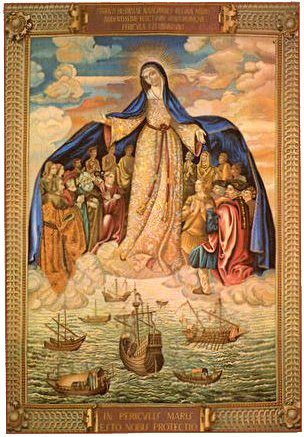 "Sub Tuum Praesidium" (Latin for "Under thy protection"; Greek: Ὑπὸ τὴν σὴν εὐσπλαγχνίαν) is the oldest extant hymn yet discovered to the Theotokos (Mother of God).
The earliest text discovered so far of this hymn was written in Greek on Egyptian papyrus and dates to approximately 250 AD. It is used to this day in the Roman, Byzantine, Ambrosian and Dominican rites. It is also commonly used by the Salesians in honor of Mary Help of Christians, by the Jesuits during their exercises of piety, and by the Marist Brothers in educating young Catholics. It is also highly regarded by TFP members.

The Latin translation, likely derived from the Greek, dates from the 11th century:
Latin Text
Sub tuum praesidium confugimus, Sancta Dei Genitrix.
Nostras deprecationes ne despicias in necessitatibus nostris,
sed a periculis cunctis libera nos semper,
Virgo gloriosa et benedicta.
English Translation
Under thy protection we seek refuge, O Holy Mother of God;
In our needs, despise not our petitions,
but deliver us always from all dangers,
O Glorious and Blessed Virgin.
Also noteworthy is that this prayer has remained consistently linked to the end of evening prayers, as can be seen in the Roman and Byzantine liturgies. The sung antiphons of this prayer are related to the end of the day (Compline) and more specifically the singing of the Canticle of Simeon. From the trusting abandonment to the hands of Divine Providence that the Canticle of Simeon proclaims (Nunc dimittis servum tuum, Domine – Now dost Thou dismiss Thy servant, O Lord), the piety of the faithful have added the same confident abandonment to the protection of our Heavenly Mother.