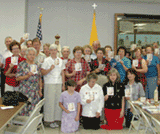 The American Society for the Defense of Tradition, Family and Property's America Needs Fatima campaign (ANF) has been spreading the messages of Our Lady of Fatima through personal home visitations for over five years and recently tallied the statistics.
In 16,208 visits it has personally spread Our Lady's Fatima message to over 150,000 Americans from all fifty states, and the numbers continue to grow. "These results are very encouraging," said Fatima Presentation Coordinator Byron Whitcraft. "At this rate, we can expect to have personally spread Our Lady's most-important message to half-a-million people in less than a decade."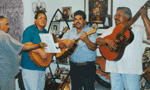 America Needs Fatima previously spread the Fatima message primarily through direct mail, but started its home visitation program to give the message more seriousness. "The messages that Our Lady came to bring at Fatima are way too important to be left only to direct mail," said ANF Coordinator Robert Ritchie. "That is why it was a great relief to me when we began personally bringing it to our friends around the country."
These personal visitations last about two hours and consist in bringing a beautiful, three-and-a-half-foot statue of Our Lady of Fatima into a home. The host is then asked to crown the statue. After a brief introduction, given by the statue custodian, attendees assist a half-hour slide presentation that outlines the Fatima message from an historical perspective and interprets Our Lady's Fatima requests.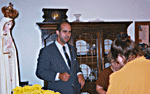 Directly following the slide presentation, and a question-and-answer period, the Sorrowful Mysteries of the Rosary are prayed in reparation for the moral crisis shaking the Church and the world. Books and religious items are also distributed and sold.
In spite of impressive numbers, Mr. Whitcraft is determined not to slow down. "We are very happy with these statistics, but rather than slacking-off we are firmly resolved to keep up the pace and spread the Fatima message as far and wide as possible."