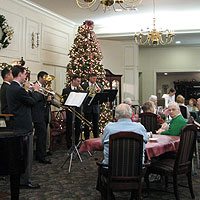 Christmas is a season of tremendous joy. Like harmonizing notes on a score of music, a universe of details makes the feast of Our Lord's birth indelible. The beauty of midnight Mass, families celebrating, gift giving, grudges that vanish, fireplaces that crackle, the scent of fresh pine, and a blanket of pure white snow come to mind.
However, those who suffer in hospitals and nursing homes only faintly remember the joy of Christmas. Illness, pain or loneliness overwhelms them. Hence the wisdom of the Church in encouraging visits to the sick — a corporal work of mercy.
"He who sings, prays twice"
Saint Augustine said, "He who sings, prays twice." With this in mind, a group of young TFP members set out on December 2 as a brass sextet to play Christmas carols for the sick and elderly at Longwood Manner nursing home in Maytown, Penn.
"You can tell some of these elderly people have no one to visit them. It's very unfortunate," said TFP band director Gregory Escaro. "If we can visit them and cheer up their Christmas a bit, we're more than glad to do so." And few things capture the Christmas spirit better than traditional carols.
"Thank you so much!" said once resident. "You can't imagine how many memories your concert brought back to me. Thank you!"
In our modern society, no insurance policy can substitute the warmth of human charity. And it was precisely that personal touch which residents at Longwood Manner seemed to appreciate most.