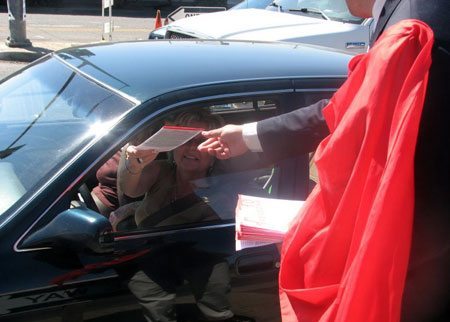 As we stood at a busy intersection on Rt. 20 with our banners and signs, plenty of people honked, cheered, waved and gave us the thumbs up with gusto. Support for traditional marriage in Yuba City was overwhelming.
"I want to let you know that you are the answer to my prayers," said one young lady who approached to shake my hand with a wide smile and a discreet sigh of relief. "I thought I was the only one opposing same-sex 'marriage' but now I know there are many more. Thank you! Thank you!"
A gracious family from the area came out to join us. In fact, they arrived with a big ice chest full of ice cold water. Their kindness was most appreciated because the sun blazed away and temperatures soared to about 103 degrees.
Restaurants on either side of the road also came out to give us drinks.
The local newspaper, the Appeal Democrat, sent a photographer to report on the campaign. The following day, the back page of the first section of the newspaper carried a photograph of our banner with a caption.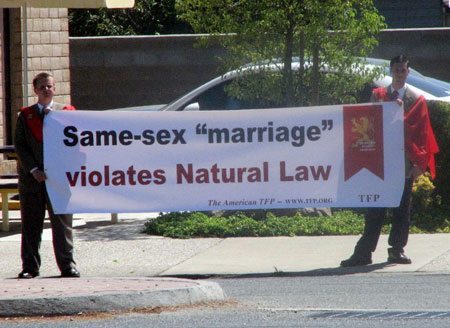 Debating the City Barber
The city barber was smoking a cigarette outside his barber shop, watching what I am sure was a very unusual sight for him: hundreds of passing cars honking for traditional marriage. When Mr. Kenneth Murphy approached him, he said: "I really don't have a position on homosexual 'marriage' but I don't think you should be forcing your opinion on everyone."
"We are not forcing our opinion on anyone, sir, we are just stating reality based on natural law," explained Mr. Murphy.
"But homosexuals can't change," repeated the barber like a broken record.
"Yes they can. I know of cases that have. Besides, you seem to dislike it when opinions are forced on others, however, you insist on repeating that homosexuals cannot change. How does that make sense?"
"They can't change," repeated the barber again.
"Yes they can. If homosexuality was genetic, how do you explain this scientific fact: among two identical twins with the same genetic code, one might be a heterosexual while the other might become a homosexual?"
The barber had no intelligent answer and went back into his shop.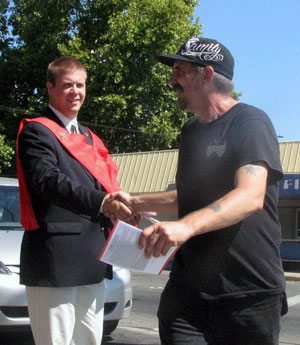 "Try Not to Get Hurt"
Moments later, two self identified lesbian women walked up to Mr. Charles Sulzen, called him every sort of ugly name, then proceeded to rip up our flier into small pieces and hurl them to the ground, littering the sidewalk. Those standing at the bus stop watched the scene with expressions of utter disbelief written on the faces.
A young woman who had witnessed the scene said: "What you are doing is great. Keep it up and try not to get hurt by these crazy people."
Two police officers were working in a parking lot nearby. One of them drove by on his motorcycle, looked at our sign that read "Honk for Traditional Marriage" and said: "O, I didn't realize you were asking people to honk. I was trying to conduct business and it was nearly impossible because of the number of honks, especially the loud semi trucks."
So, as you can see, California is rejecting same-sex "marriage."
Please pray for our next stop in Santa Rosa.
Saint Joseph, pray for us!
How to Support the Caravan
If you wish to support this vital endeavor with a gift, please click below.

If you would like to make your contribution by mail, please send a check payable to TFP Student Action and mail it to:
TFP Student Action,
1358 Jefferson Rd.
Spring Grove, PA 17362.
We've already traveled over 3,000 miles for traditional marriage and it takes some $107.00 to fill our van's gas tank. Thank you for considering a gift to this cause. God bless you!