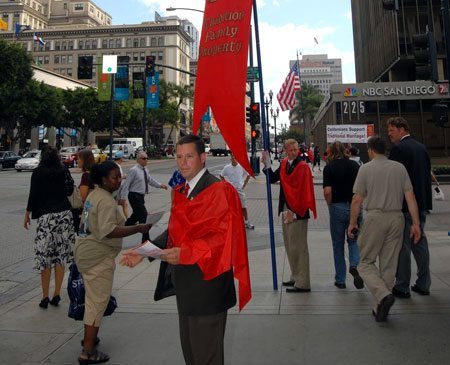 At the beginning and end of each campaign, we invoke Saint Michael the Archangel. He is our protector against the wickedness and snares of the devil, and being that today, September 29, is his feast day, we prayed to him with more emphasis and devotion.
"Finally!" exclaimed a muscular man walking by. "Finally, I found someone I agree with. Give me a stack of those fliers!"
Liberal Media Ignores TFP Campaign
Our traditional marriage banner was displayed a few yards away from a large building of NBC News – San Diego.
Watching the TFP campaign from across the street was a businessman on lunch break waiting in line at a sushi bar restaurant. "If the other side were here (pro-homosexual advocates) NBC News would be out here in force, giving them all types of coverage," he remarked. "But I bet you that there won't be one single piece of news about your campaign tomorrow."
He was indeed correct. Although the local media was informed about the TFP demonstration for God's marriage, not a single reporter came.
In the afternoon, we went to a busy intersection where we held signs and prayed a rosary for the victory of God's law and the restoration of traditional moral values in America.
Coming out of the Walgreens next to us, walked a middle-age man screaming obscenities against us at the top of his lungs and giving us the middle finger. What he did not notice was an unmarked police car in the parking lot watching his unruly behavior. Jumping out of his car, the police officer called him over and scolded him. The pro-homosexual advocate could only shake his head in agreement with the police man, "Yes, Sir. Yes, Sir."
Paying respects to Medal of Honor recipient Michael Monsoor
On the eve of the feast of Saint Michael, we had the honor of visiting the gravesite of Michael Monsoor, a Catholic Navy Seal and war hero who selflessly jumped on a live grenade, sacrificing his own life, to protect his team from certain injury and death. The simple white granite tombstone marking his burial place at Fort Rosecrans National Cemetery bears a cross, and below his name, a simple inscription: "No regrets."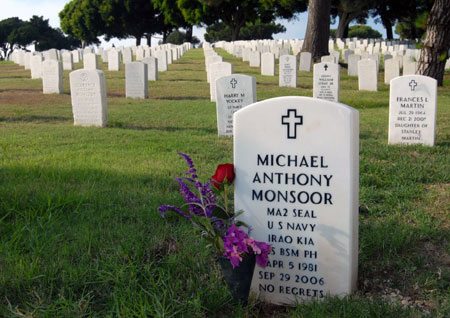 As we prayed for the eternal repose of his soul, a sense of admiration and pride welled up within us. Yes, America is blessed with heroes, men of worth. Although you may not hear much about them, they exist and they deserve America's respect, honor and admiration. We also prayed for our military.
To read Michael Monsoor's story, click here.
From the vantage of Loma Point, we had a marvelous view of the Pacific Ocean. Not far away, closer to the peninsula's tip, stood a light house. The weather was slightly hazy, shrouding the sun from its normal brilliance. At this privileged location, facing the steady breeze of the ocean, we erected our American flag and TFP banner. Both snapped in the wind. Then we sung an hour of the Little of Office of the Blessed Virgin Mary.
Keep the prayers coming.
Saint Joseph, pray for us!
From the inbox:
Dear Brothers,
Thank you so from the bottom of my heart for what you are doing in Jesus' name. I am keeping you all in prayer.
Your Sister in Christ,
Susan
How to Support the Caravan
If you wish to support this vital endeavor with a gift, please click below.

If you would like to make your contribution by mail, please send a check payable to TFP Student Action and mail it to:
TFP Student Action,
1358 Jefferson Rd.
Spring Grove, PA 17362.
We've already traveled over 7,251 miles for traditional marriage and it takes some $107.00 to fill our van's gas tank. Thank you for considering a gift to this cause. God bless you!