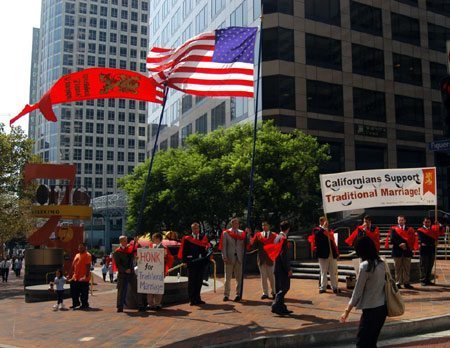 Lunch hour on Figueroa Street, downtown Los Angeles: Stepping onto the sidewalk, he said: "Let me see that sign." The sign held by TFP volunteer Mr. Thomas Schneider read "God's marriage = 1 man, 1 woman = children." "Golly! You're right about that." Just then another businessman turned to Mr. Schneider and chimed in: "You're 120% percent correct! Keep up the good work."
Observing a group of pro-homosexual advocates complaining about the TFP campaign, a passerby asked Mr. Schneider if he could hold his sign. "They hate your fliers, don't they," he remarked. Every time he encountered an objector to traditional marriage, he would wave the sign more proudly. "Thank you for doing this. You need to be out here every day!" he insisted.
Talking on his cell phone, a businessman said "hold on" to the person on the other end of the line, greeted the TFP volunteer on the sidewalk with a firm handshake, looked him in the eye and said: "God bless you for being here. I really mean it! You don't know how much I appreciate your being here. Please come back any time."
Moments later a lady honked from her car in enthusiastic approval, waving and blowing kisses to all the TFP volunteers on the sidewalk. "Thank you. Thank you. Thank you."
"Most peaceful group"
On the corner stood a large building. Security guards responsible for it spent a good amount of time simply watching us distribute literature, debate and interact with the public. "Normally, we kick demonstrators off these steps because they create near riots," said one of them holding a radio. "But you are the most organized, professional and peaceful group we ever had here. You are fine where you are."
In stark contrast to this polite exchange, a pro-homosexual woman attempted to stop our campaign. "You should really stop what you're doing and leave. If violence breaks out," she told me, "you will be responsible for it. You are inciting people to acts of hate and violence." Her face muscles and hands quivered and trembled as she spoke. "Our position is based on moral principle and therefore not personal," I said. "To suggest that we would be responsible for violence is not just. I invite you to read our flier and see for yourself." But she would not listen and only continued complaining in a loud voice like a broken record. Whenever I spoke, she cut me off rudely.
Changing her "leave now" approach, she started: "You are liars. You are not from California and your banner says 'Californians support traditional marriage.'" Now she was barking up the wrong tree. "Excuse me, 61% of Californians support traditional marriage, one man, one woman," I replied. "Besides, the American TFP has 130,000 members in the state of California." "No. No," she insisted. "You are liars." At that exact instant, two ladies approached me with thumbs up, saying: "We support what you are doing. We believe in traditional marriage! Thank you!"
"You see," I said, "these ladies are Californian." "No. They are not Californian. They are immigrants." This comment did not go over too well with the two ladies whose jaws dropped open in disbelief. "You've got to be kidding," they responded. "We are legal immigrants and you want to treat us like second class citizens because we support traditional marriage? That's ridiculous." I played a bit the role of moderator now because the debate was escalating rapidly.
For a third time, the pro-homosexual woman changed her tune. This time, out of the blue, she screamed: "This is how the Nazis started. This is how the Nazis started. Jesus is love. Nowhere in the Bible does He condemn gays." I pointed to the TFP flier which contains passages from Holy Scripture condemning homosexual vice, but she only kept yelling.
A businessman in a crisp suit placed himself right in front of the yelling woman and said: "What you are saying has no relevance to this debate. Leave them alone. Just go away!" The pro-homosexual woman resorted to vulgar and shocking name-calling. "This gentleman is Californian and he supports traditional marriage," I added with a smile. "No he's not," she shouted. "He belongs to your group."
Mr. Matthew Shibler offered a TFP flier to a pedestrian who rejected it, saying: "Not a snowball's chance in hell I would take your flier."
It's disagreeable to even mention some of the encounters TFP volunteers endure during this campaign. However, I believe it is important to relate them so that others may understand how far evil is advancing. A male individual provoked Mr. Thomas Schneider today in an indecent way. "I think I would like to marry you," he said. Mr. Schneider's answer was perfect: "Shame on you for even bringing up such an indecent proposal!"
Support from law enforcement personnel
Law enforcement personnel have been most understanding and helpful throughout our tour of California.
"Good job. I really enjoy the bagpipes," said the security guard to Mr. Charles Sulzen, our TFP bagpiper. "In fact, many of my buddies are former Marines. When you play the Marine Hymn, I turn on my radio and broadcast the melody to them. They love it."
After our final prayer at this location, one of the security guards shook my hand and said: "I want to let you know how much I appreciate what you are doing. I consider it a great honor for me to have been with you here during your demonstration. Thank you. God bless you and be safe."
A police officer who spent time monitoring the area was pleased with our conduct and lamented how "California is no longer a safe place to raise children."
"The truth is here"
Hollywood Boulevard: Seconds after we started campaigning for traditional marriage in Hollywood, a young black man in his twenties, pointed to our sign and chanted to a large cluster of pedestrians and tourists on the sidewalk: "Here is the truth! Here is the truth! Finally, someone is out here spreading the truth. I am really glad you are doing this and I am really glad you are doing this here."
Some of his acquaintances across the street listened and chuckled: "He better be careful. Someone might beat him up for saying that." And they had a point. Hollywood is not the place you would expect to find a group of Catholic volunteers affirming that homosexuality is harmful and must be opposed. But there we were and this young man courageously offered to stand with us. As he held our large traditional marriage poster, he repeatedly pointed to the word God. "Yes, it's God's marriage. God's marriage."
Our new found friend was soon confronted by a pro-homosexual pedestrian who hurled vulgar insults at him. He responded: "What would your mamma say? If it hadn't been for your mom and dad, you wouldn't be here." Looking at the surrounding buildings, glittering with advertisements promising all sorts of empty pleasure, the young man continued with a reflection: "It's not about your expensive cars, your money, your hotels. It's about God."
Before we left, he asked for a stack of traditional marriage fliers. "You will leave, but the campaign will continue in Hollywood after you go," he assured us.
Defending the truth in hostile territory
It is a challenging place to be in a place like Hollywood, which broadcasts so much sin and immorality. To be here, standing on the sidewalk studded with the names of so many "stars," defying the evil of unnatural vice, I think had tremendous symbolic significance.
But we had little time to ponder. Another pro-homosexual advocate spit at the feet of Mr. Kenneth Murphy. They call it "tolerance."
A local Hollywood resident stopped to talk with Mr. John Miller. "I am not going to tell homosexuals what they can or can't do," he said. Mr. Miller explained how homosexual vice is being forced on California and how it forms part of revolutionary process bent on legitimizing a hyper-sexualized culture devoid of any form of moral values or restraint. "I never thought of it that way," he said. "You have a point. Thank you for taking the time to talk to me."
A young Jamaican man stopped to thank us and related how he was indecently solicited while walking the streets of Hollywood by a homosexual. "My honor was attacked," he said. "And you can't just hang out with other guys without worrying about it anymore. In Jamaica we don't have this problem."
Three Russians stopped and asked to take pictures with the sign that Mr. Schneider was holding: "God's marriage = 1 man, 1 woman." Two people from Poland had seen us campaigning downtown Los Angeles earlier in the day. They greeted us in Hollywood effusively, "you people are everywhere and very courageous!"
At the end of the day, TFP volunteer Mr. Kenneth Murphy, said. "This was my favorite campaign. For my next birthday, I want to come back to Hollywood to do another campaign."
Thank you for your support and especially your prayers.
Saint Joseph, pray for us!
From the inbox:
TFP pilgrims, keep up the good work. You are missionaries in a hostile land. Remember the final beatitude…!
— Mark N.
Dear TFP Marriage Campaign,
I looked at your campaign blog on the TFP website after getting an email about the campaign. I am so excited to hear about your campaign and, while you are of course receiving many negative responses (God bless you for your courage), I am also encouraged by the fact that you are also receiving a lot of positive responses. It is evident that your campaign not only helps to challenge those opposed to us, but also helps to strengthen those who are with us. Your courage gives others courage! God bless you and know that you have my family's prayers, including 3 small children whose prayers I know God listens to! 🙂 We are also praying for all of California. Praised be Jesus Christ.
— Greg Y.
Omaha, Neb.
How to Support the Caravan
If you wish to support this vital endeavor with a gift, please click below.

If you would like to make your contribution by mail, please send a check payable to TFP Student Action and mail it to:
TFP Student Action,
1358 Jefferson Rd.
Spring Grove, PA 17362.
We've already traveled over 3,000 miles for traditional marriage and it takes some $107.00 to fill our van's gas tank. Thank you for considering a gift to this cause. God bless you!