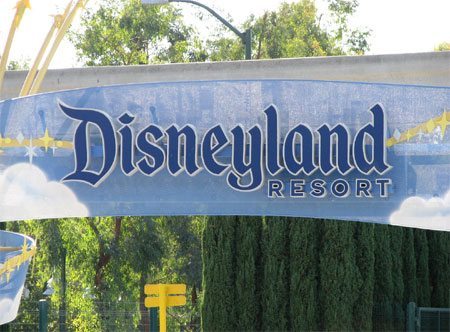 As soon as he saw our sign, he smiled and exclaimed: "Right on guys, right on! God is pleased with your work." Everyone crossing the intersection heard him. Some smiled in agreement. Others sneered or pretended not to notice our banners, although it is hard to miss an 18-foot banner and a 20-foot American flag on Hollywood Ave.
A mother with four young children passed Mr. Thomas Schnieder who was holding a sign. "What are they doing, Mom? Why are people honking?" "They are protecting marriage the way it's supposed to be," she said. "God made Adam and Eve, not Adam and John. That's why people are honking."
Some time into the campaign, we found out that Disneyland was in the process of hosting a Disney "gay week" – not the best time to be in town. In fact, several police officers asked us to be careful and showed apprehension about the possibility of a pro-homosexual demonstration.
Violent Threat against TFP Volunteers
A heavy set man wearing a blue t-shirt and sun glasses paused at the crosswalk: "If I had the means, I would shoot you all right now," he said bluntly. He wasn't joking. His threat made me think of the message of Our Lady of Fatima when she mentioned how the Church would be persecuted. We encounter people who explicitly say they would like to kill us for the Faith that we profess.
The image of the homosexual lifestyle crafted for popular consumption by the major media is a bold-face lie. The violent feelings, language, and behavior we've witnessed on the streets of California from those who endorse the homosexual lifestyle reveals a completely different reality which is not pretty, loving nor peaceful.
"Where I am from, same-sex 'marriage' is legal, and I am proud of it," said a woman from the UK. Then rudely putting her face about one inch away from Mr. Elias Bartel's nose, she screamed: "America is out of step! You need to get with it!!!"
As I stood, holding my sign, facing stopped cars at the light, a woman shook her head "no" in disapproval of traditional marriage, then put her hand in the shape of a gun, pointed her index finger at me and pretended to shoot me.
Favorable Reactions
"Can we join your demonstration?" asked a couple who spent some time with us, under our banner, defending traditional marriage.
Shortly thereafter, three young teenage girls said: "If we had cars we would honk the horn for you. We are too young to own cars." Then they started shouting: "Honk! Honk!" in support of our campaign.
A 7-year old boy had a similar reaction. Demonstrating his joy for the TFP campaign, he began honking: "Honk! Honk!" After a while, his parents told him it was time to continue visiting Disneyland. The boy objected: "No. I want to stay here with them (TFP volunteers).
Observing the campaign from a nearby park bench, a gentleman and his wife saluted Mr. Charles Sulzen, who asked: "Did you receive our flier, Sir?" Giving two thumbs up, he said, "Yes. I got two! Thank you."
Until next report, please continue to pray for us.
Saint Joseph, pray for us!
From the inbox:
Good People of GOD,
I've just watched on my computer here in Wisconsin your visits in these California towns and you are certainly "of GOD"….As California often leads these entire 50 United States, your work there cannot be underestimated! Keep it up, with the grace of God, who is clearly your strength!
THANK YOU for your work, done in such a Catholic tradition of gentlemanly professionalism! I will certainly pray rosaries for your continued success at this critical time for our nation. May "One Nation, Under God," again take over our land!
You'll show us the way! Thanks again!!
T. J.
Middleton, WI