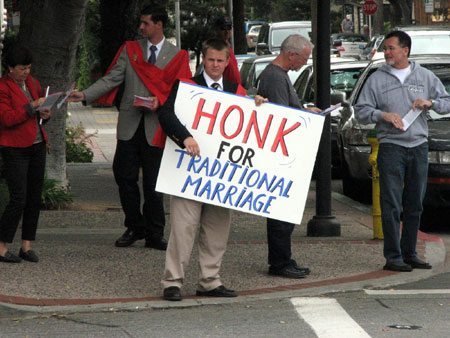 Carmel is a quaint, well-to-do town on the Pacific shoreline, a famous vacation spot, with expensive restaurants, art galleries and such. But more importantly, it is a gem of Catholic heritage where Blessed Junipero Sierra established one of the twenty-one California missions. His remains rest under the main alter of the Carmel mission church, a beautiful structure that speaks of the strong faith of the missionaries and conquistadores.
After briefly visiting the mission and imploring Our Lady's help and protection, we made our way to the intersection of Ocean Ave and San Carlos. For a small town, there were lots of people walking the sidewalks, mostly window shopping or simply enjoying the fresh ocean breeze.
"How did you pull this off?"
The Vietnam veteran gave me a firm handshake and with a broad smile from ear to ear, said: "I can't believe you guys are doing this. How did you pull it off in Carmel?" I explained how the TFP is touring the entire state of California, defending traditional marriage. "Are you Catholic?" he inquired. "Yes, we are proud members of the Church militant." He glanced around and saw TFP members distributing fliers, debating and eliciting plenty of "honks for traditional marriage" and added: "I love it. I love it. You guys are great. When you're finished here, come over. I want to treat you all to some drinks."
Carmel is highly controlled. Smoking and live music are forbidden and we were not aware of the sound ordinance until a police officer arrived to report having received some complaints about the bagpipes. He was very polite: "You have every right to be doing your demonstration. Could you just turn down the bagpipes?" All pipers know that it is impossible to adjust the volume on the bagpipes. It has one setting only: loud.
Rainbow Flag Waver
A woman showed up agitating a rainbow flag and stood on the street corner in front of our "honk for traditional marriage!" She yelled insults in succession. And although she called herself Catholic, she yelled: "The Church is dying. The Church is dying." Moments later, the flag waver's mother and father joined her on the sidewalk. Her mother said: "I am a Catholic but I don't believe everything the Catholic Church teaches." TFP volunteer Mr. Keith Douet replied: "We believe everything the Church teaches." The flag waver's father, according to the local newspaper, was a former city councilman.
Eventually, about five people joined the pro-homosexual flag waver who aggressively shouted against the TFP volunteers: "No. You should not be tolerated."
Even people walking by responded to our sign "honk for traditional marriage" and honked with their voices, "honk, honk." Many passing cars also honked with great enthusiasm. Carmel attracts foreign visitors and many of them paused to take pictures and film the TFP campaign.
After wrapping up, we met the Vietnam veteran who had invited us for drinks. He was with a group of friends and he asked Mr. Charles Sulzen to play the bagpipes in front of a large American flag that was at half mast, marking the date: 9-11. We gladly lined the sidewalk facing the stars and stripes and sung God Bless America accompanied by the bagpipes, followed by Amazing Grace. Eyes were teary.
God bless America!
May Saint Joseph grant us victory!
From the inbox:
BRAVO for the TFP action at Berkeley! We prayed specially for the TFP campaign today in our family Rosary. Keep up the fight!
Bernard T.
Cape Town, South Africa
How to Contact the TFP volunteers
To contact the TFP volunteers who are on the road, write to
!- var prefix = 'ma' + 'il' + 'to'; var path = 'hr' + 'ef' + '='; var addy70472 = 'studentaction' + '@'; addy70472 = addy70472 + 'tfp' + '.' + 'org'; var addy_text70472 = 'studentaction' + '@' + 'tfp' + '.' + 'org'; document.write( '' ); document.write( addy_text70472 ); document.write( " ); //–>
!- document.write( " ); //–>
This e-mail address is being protected from spam bots, you need JavaScript enabled to view it or call John Ritchie at 717-495-5427.
How to Support the Caravan
If you wish to support this vital endeavor with a gift, please click below.

If you would like to make your contribution by mail, please send a check payable to TFP Student Action and mail it to:
TFP Student Action,
1358 Jefferson Rd.
Spring Grove, PA 17362.
We've already traveled over 3,000 miles for traditional marriage and it takes some $107.00 to fill our van's gas tank. Thank you for considering a gift to this cause. God bless you!