Today we held our first campaign for traditional marriage on the streets of California. The location was perfect: Cal Expo in Sacramento. It was the last and busiest day of the fair, and Labor Day guaranteed throngs of foot traffic coming in and out of the state fairgrounds.
We made several "Honk for Traditional Marriage" signs and displayed them at the fair entrance. The response from cars was immediate and honks of all varieties and intensities punctuated the air constantly.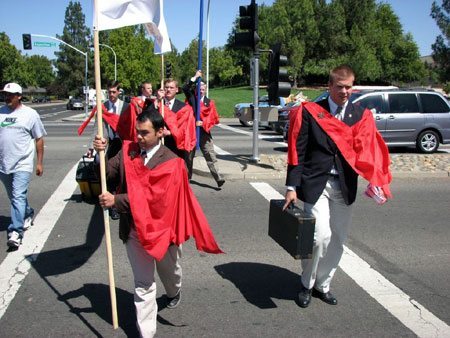 The issue of same-sex "marriage" has divided the state down the middle. Even within the same vehicle, we got both thumbs up and thumbs down. Very few people are undecided or unsure where they stand.
But don't expect civility from same-sex advocates. One woman approached a TFP volunteer and bluntly stated: "You should be killed for your opinion on marriage. I'm not joking you should all be shot." A few other passing cars attempted to inflict harm. A moving car launched a full coke can at Mr. Thomas Schneider and another car containing a group of screaming girls threw a cup of ice coffee at him as well. Fortunately, both flying objects missed our dedicated volunteers. Saint Joseph, our caravan patron, is indeed protecting us.
We've found Protestants who agree wholeheartedly with the Catholic Church's teaching against homosexuality. A preacher we met at the fair who had a pro-traditional marriage booth was happy to meet us and appreciated the TFP flier: "This flier is the best flier on the subject I've seen yet." He added: "Catholics have a term called the Church militant. We (Protestants) need something like that too."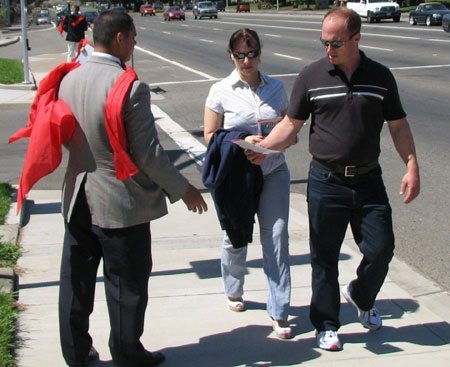 A city bus driver came and said: "I need another stack of fliers because I gave out the last one I had." Apparently, he made sure each passenger on his bus received a flier.
I want to thank all of you who are praying for us. We will need your continued prayers.
Saint Joseph, pray for us!
How to Support the Caravan
If you wish to support this vital endeavor with a gift, please click below.

If you would like to make your contribution by mail, please send a check payable to TFP Student Action and mail it to:
TFP Student Action
1358 Jefferson Rd
Spring Grove, PA 17362
We've already traveled over 3,000 miles for traditional marriage and it takes some $107.00 to fill our van's gas tank. Thank you for considering a gift to this cause. God bless you!