Every year, thousands of activists from all across the country gather for the Conservative Political Action Conference (CPAC) in Washington, D.C. to discuss the state of the conservative movement. On March 14-16, members of the American Society for the Defense of Tradition, Family and Property (TFP) participated in the conference with a special emphasis on the book, Return to Order: From a Frenzied Economy to an Organic Christian Society—Where We've Been, How We Got Here, and Where We Need to Go by John Horvat II.
The event was held at the massive Gaylord Hotel and Convention Center in nearby National Harbor, Maryland. The author gave a presentation of the book on Friday, March 15 in one of the hotel's conference rooms, which was followed by an official book signing. The author continued signing books throughout the weekend at the American TFP's always-recognizable booth in the Exhibition Hall. This year CPAC celebrated its forty year anniversary and the American TFP has participated for well over 30 years in this major conservative event.
Author John Horvat II also gave over 15 press interviews about Return to Order to radio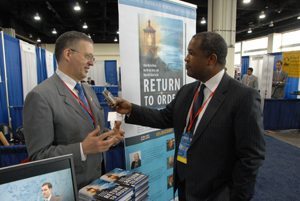 and television stations that were at CPAC to cover the event. Among these were ABCNews, Revolution Radio, Tea Party News Network, The Thom Hartman Show on Dial Global Network, The Sean Casey Show on WCBM Baltimore, The Take with Charles Butler on Blog Talk Radio, The Real Side with Joe Messina from KHTS Santa Clarita, Calif., and C-SPAN Book TV.
On the Wednesday before CPAC, Mr. Horvat gave a short presentation about the book at the conservative movement's Weyrich Luncheon where the principle speaker was Sen. Mike Lee (R-UT).