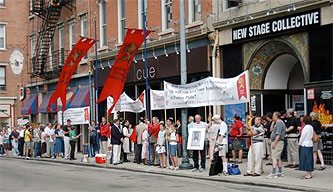 On June 26, over 70 Catholics joined the American Society for the Defense of Tradition, Family and Property (TFP) and its America Needs Fatima campaign in front of the New Stage Collective in Cincinnati to protest the blasphemous work, "Jerry Springer: The Opera in Concert."It was not an ordinary protest.
It began normally with the gathering of faithful Catholics intent upon reparation. On the other side, there were those who mocked and jeered at the protesters.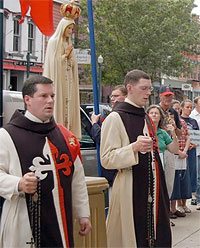 Suddenly, the wind blew fiercely, the clouds rolled in ominously. Thunder would be heard. Lightening bolts struck nearby. Rain fell in torrents as though nature was trying to cleanse the city of what was about to unfold at the New Stage Collective in the Over the Rhine district of the city. Those mocking the protesters hurried away.
Outside, the protesters stood firm praying and singing undeterred. They endured insults from passersby and pedestrians. They welcomed signs of support from others.
Throughout it all, they offered reparation to God for the blasphemies in the Springer performance that insult Him, mock His crucifixion, and refer to His Mother as "raped by an angel."
What the protesters did not know is that inside the theater half way through the show, the lights went out in the theater for more than 30 minutes. The audience was forced to wait in darkness until the lights came on again.
One rally participant said: "Our Lady sent the rain as if to cleanse the city of this sin."
"Thank you for sharing part of Christ's suffering," local organizer Pat Ashcraft told the crowd. "It is a suffering He warned us we would have to bear if we were to follow Him. It is up to us; if we don't act, who will?"
Over 15,000 protest post cards have been sent to the New Stage Collective by TFP friends and supporters in addition to thousands of email protests. E-protests can still be sent. Click the link below.