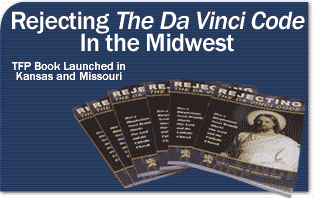 As part of campaign against Dan Brown's The Da Vinci Code, the American Society for the Defense of Tradition, Family and Property (TFP) is holding promotional talks for its new book. During the November 4-6 weekend, American TFP Vice President John Horvat launched the book in Topeka, Kans. and St. Louis.
The TFP's new book is titled Rejecting The Da Vinci Code: How a Blasphemous Novel Brutally Attacks Our Lord and the Catholic Church. Written by the TFP Committee on American Issues, the short 124-page book is a much needed refutation of Dan Brown's dishonest claims against the Church and the hidden Gnostic doctrine found throughout his fictional narrative.
The two events brought TFP supporters and friends together to discuss this bestseller broadside against the Church and Her Divine Founder. It also proved an occasion to start planning for protests in front of movie theaters when the film version comes out in May 2006.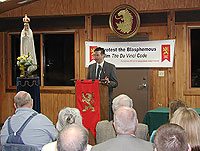 Speaker John Horvat told the crowd in Topeka to reject outright the oft-repeated assertion that the novel is only fiction and therefore harmless.
"Dan Brown himself affirms the opposite," Mr. Horvat noted. "He says his purpose is not to entertain but to provoke discussion about faith, religion and history."
The TFP book shows how Dan Brown's premises are historically and theologically unsound. He affirms things which are patently false, distorts reality and presents a false picture of Christ and his Church.
"Fiction does not give a person the right to spread errors," the TFP speaker concluded.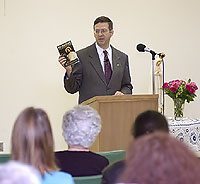 During the launching at the Maria Center in St. Louis, a brief summary of the Gnostic "code" behind The Da Vinci Code was presented. The speaker also showed how The Da Vinci Code must be put in context of the cultural war currently being fought between Christianity and militant secularism.
"I reject The Da Vinci Code because it is not a harmless obscure novel," Mr. Horvat claimed, "but part of a wave of blasphemous art and literature mocking and questioning everything the Church holds sacred."
The two events were part of an effort on the part of the American TFP to plan grassroots level reactions to reject the novel and to oppose the coming film version.
Call 1-888-317-5571 to order the book.