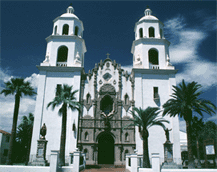 Priests, Architects, members of liturgical councils and parishioners gathered in Mundelein, Illinois to discuss how a Church will look in 2010. What most people want is beauty!
Building a Domus Dei
"I was in awe. In every direction I looked, I saw images that reminded me that I was standing at the meeting place of Heaven and earth," said the 13-year-old John Schulte as he entered Assumption Cathedral in Covington, Kentucky. Everything seemed to "draw me up," he continued, "and away from the ordinary, and into the realm of the sacred."
The year was 1965 and a lot has changed in Church architecture and renovation since then. John Schulte, however, was so moved by what he saw that day that he decided to become a priest. Now, over 30 years later, he is pastor of All Saints Parish in Walton, Kentucky, and is building his very own "Domus Dei" or House of God with the enthusiastic support of his parishioners.
His love for beauty and attraction to the sacred is not unique amongst Americans. That could have been the reason for the large and enthusiastic turnout at the "Building the Church for 2010 Conference" in Mundelein, Illinois, this last October.
"The response was much greater than we expected," said Denis MacNamara, the organizer. "Our attendance was 300% of what we planned." One of the goals of the conference, he continued, was "to provide a forum for discussion about the role of traditional architecture and iconography in current day church building."
Denis is the Assistant Director at St. Mary's of the Lake University, the host for the conference. St. Mary's was the ideal setting for such a seminar on architecture with its magnificent colonial revival style buildings placed within a sprawling 800-acre estate. "One of the themes [throughout the conference]," Denis said, "was that the church building is not simply a gathering hall, but…an icon of the Heavenly Jerusalem."
Beauty: "That Which When Seen, Pleases"
Duncan Stroik, author of Reconquering Sacred Space was one of the speakers at the conference. He is also a Professor at the University of Notre Dame and the architect who designed Fr. Schulte's House of God in Walton. "Why the revival of classical and Gothic architecture?" he asked the attentive audience. His answer was simple, "People are tired of their modernist buildings from the sixties and seventies which in some cases are actually falling apart. O'Hare airport is more beautiful than some of our churches," he affirmed. "Laymen and pastors are again demanding that churches look like churches."

Such talk of traditional architecture and a heavenly Jerusalem was very refreshing for me since I have heard my share of complaints from dissatisfied Catholics regarding the bizarre structures some people call churches. Take St. Clare of Assisi in Ballwin, Missouri for example. Friends of mine refer to this place of worship as the "potato chip church." Sad thing is that's exactly what their church looks like. This may seem disrespectful to some, but I see it as an obvious association of ideas. If it looks like a potato chip, that is what people will call it.
While members of St. Clare complain about the present, others mourn the past. Many were the beautiful churches destroyed to make room for architectural monstrosities that replaced them. And all of this was done in the name of modernity.
According to the simple definition of Saint Thomas Aquinas, beauty is "that which when seen, pleases." Now, that which formerly was very pleasing to the eye is sadly discarded in favor of cost, comfort and convenience. Such is the mentality of our utilitarian world, which places the material above the spiritual, and ends up losing both.
There are plenty of people upset with this utilitarian approach to sacred buildings, but little did I realize that an intelligent defense of the spiritual and sacred — in architecture — is being waged right here in America.
Dominican Nuns and Their Trusty Architect
Many Americans attending the conference are fed up with the "wreckovations," as they are commonly called, going on in the Church today. Conspicuous among them were a group of Dominican nuns from St. Cecilia's Congregation in Nashville, Tennessee, dressed in the black headdresses and flowing white habits of their spiritual father, Saint Dominic. Of the 192 nuns currently in their convent, 119 are 39 years or younger.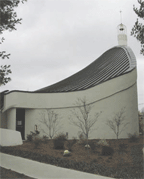 They are getting ready to build a new chapel, renovate their motherhouse and add a new convent wing because of the influx of new vocations. "We are in a position where we have to make bed space for them," said Sister John Mary Fleming. "But we have to renovate it in such a way that is appropriate to their spiritual formation." She was alluding to the positive effect a beautiful building has on the soul. Traditional architecture, a nice match for their wonderful Dominican habits, is at the same time very compatible with their rapidly growing order.
To insure they got what they wanted, they brought along their architect, Marion Fowlkes. "You have to keep the customer happy," was how he explained his reason for attending. It was amusing to see this man sitting amidst his customers, a group of Dominican nuns, during the meetings. He was the trusty architect protecting Saint Dominic's daughters from architectural absurdities.
"It was not an Historical Renovation, it was Trendy"
Timothy Ehlen of the Saint Francis Xavier Guild in Petoskey, Michigan also brought his architect and good friend Steve Wiseman. They are opposed to the renovation of their parish church of St. Francis and explained how a neighboring church had previously gone through the same process. That historic church was ruined, causing tremendous division within the parish. They hoped to prevent a similar catastrophe. Monthly guild meetings have attracted as many as 250 concerned members of the parish and of the 1100 families who previously called St. Francis home, over 900 were opposed to this renovation.
Steve Wiseman presented a restoration plan, which the parish loved. The liturgical "experts," however, did not. His plans were summarily rejected in favor of the modern approach with no specific reason given. The desires of the parishioners were completely ignored. "It was not an historical renovation," Ehlen said, "but one which was fashionable and trendy."
Mr. Wiseman is a convert from Lexington, Kentucky. As an architect, he admits it was the beauty in church buildings which played a big part in his conversion over fifteen years ago. He quit going to church five years later when his church in Lexington went through a similar "renovation." Missing the beauty of the Faith, he eventually returned. "I came back after studying what the Church really taught," he said. "Now I know our faith is as solid as ever and we just have to keep fighting."
"The Liturgist Shrugged Their Shoulders"
Ben Coggeshall, a student at the University of Illinois showed the same dogged determination. He decided that he was going to be an architect when he read a book on Versailles. "I want to build buildings like that," he categorically affirmed, "and if they [modern day architects] don't want to build them, then, by gosh, I will."
The parishioners of Father Schulte's house of God echoed the same message to Duncan Stroik. "They insisted from the beginning that they wanted a traditional church and the first thing on their list was for the tabernacle to be in the center," he said, "which comes up a lot in parishes today."
In order to reconcile the desires of the parish and that of the diocese — who wanted a Blessed Sacrament Chapel off to the side — they ended up doing both. "The people were elated," Stroik continued, "and the liturgist shrugged their shoulders."
Many people might also shrug their shoulders in bewilderment to hear about such a conference concerned with building a true "icon of the heavenly Jerusalem" being held in the United States of America. They might also wring their hands in frustration when they realize that this desire for traditional architecture in the most modern nation on earth is just one more paradox that exists only in America.