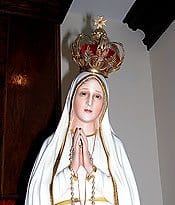 While the Incarnation is one of the most sublime expression of God's love for men, it is also the object of the most base blasphemies. The latest addition to this trend is a current off-Broadway play called "Mary, Like a Virgin"which will be running every Thursday until May 11. The American TFP is joining with other Catholics protesting against this outrage.
It seems the musical could not be more sarcastic and disrespectful. The 90-minute "confession by the Virgin Mary" has the Most Pure Mother played by a man dressed as a woman. The event is advertised as "blunt, always funny and sometimes inappropriate." The character tells her story through musical pieces that include pop, rock, musical theatre and rap. The promoters claim the play is "sure to question the strictest of beliefs" and "ask audiences just how well they know the people they pray to." The play as listed as appropriate for children ages ten and up.
Catholic faithful will be protesting outside Dillion's Louge on May 4. The American TFP will be asking its supporters and friends to send a protest email to register their total rejection and outrage.
The American TFP and its America Needs Fatima campaign is joining with other Catholics in protesting this horrible mockery.
Join the May 4 protest and rosary rally.
Thursday, May 4th at 8:30pm to 10:30pm
In front of Dillon's Lounge
254 West 54th Street (Btwn 8th/Broadway)