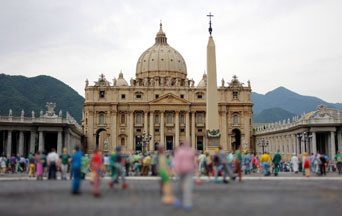 Although any conscious surrender to lust is a mortal sin, some are graver than others. Adultery is graver than simple fornication; incest is graver than adultery; and sins against nature are graver still. Sins against nature are opposed to the purpose of sexual intercourse, and also are "contrary to the natural order of the venereal act as becoming to the human race."1
Since the practice of sodomy seriously undermines the moral order, it was included among those "sins that cry out to heaven for vengeance." According to Scripture, these sins are voluntary homicide (Gen. 4:10); sodomy (Gen. 19:13); oppression of widows and orphans (Exod. 22:22ff.); and depriving workers of their just wage (Deut. 24:17ff.; James 5:4)."2
"Who am I to judge?" Opens the Way
At this time of the papal statement "Who am I to judge?" and of Amoris Laetitiae, progressive clergy, including bishops and cardinals, intend to "normalize" not only adultery but homosexual practice as well.
Since space does not allow us to list all the expressions of sympathy to the homosexual movement made by prominent clergymen, we will cite a few recent examples.

The Unscientific Myth of "Homophobia"
The homosexual movement employs words and concepts as semantic weapons to change individuals and society. Concepts like "compassion" are meant to build acceptance, while others, like "homophobia," are meant to inhibit and even paralyze reactions.
Taking a Principled not a Personal Stand
As practicing Catholics, we are filled with compassion and pray for those who struggle against violent temptation to sin, be it toward homosexual sin or otherwise.
We are conscious of the enormous difference between these individuals who struggle with their weaknesses and strive to overcome them and others who transform their sin into a reason for pride, and try to impose their lifestyle on society as a whole, in flagrant opposition to traditional Christian morality and natural law. However, we pray for them too.
According to the expression attributed to Saint Augustine, we "hate the sin but love the sinner." And to love the sinner, as the same Doctor of the Church explains, is to wish for him the best we can possibly desire for ourselves, namely, "that he may love God with a perfect affection." (St. Augustine, Of the Morals of the Catholic Church, No. 49, www.newadvent.org/fathers/1401.htm)
By affixing the "homophobic" label to its opponents, the movement hopes to both intimidate and disqualify its antagonists, brushing off their arguments based on right reason as "irrational fears."
Those who defend natural law and the Ten Commandments should scorn this dishonest tactic. They should challenge the demagogical use of the "homophobe" label by asking for the scientific basis for this so-called phobia. (It was "discovered" by a pro-homosexual psychologist intent on pushing the homosexual agenda.9)
"International Day against Homophobia and Transphobia"
Unfortunately, the progressive clergy adopted the concepts and tactics of the homosexual movement and even uses churches and religious ceremonies to disseminate them.
Thus, in the month of May, ecumenical ceremonies were held in Protestant temples and Catholic churches, as part of the "International Day against Homophobia and Transphobia." "Prayer vigils" against "homophobia" were held, for example, in Catholic parishes and shrines in Barcelona, Seville, Milan, Reggio Emilia, Palermo, Bologna, Naples, Padua, Pinerolo, Genoa, Pistoia, and Florence. In Rome, the demonstration was held in the Piazza del Campidoglio.10
Pope Francis' Influence
Paolo Rodari, vaticanist of Rome's daily La Repubblica, in the article titled "Porte aperte ai gay, la svolta della Chiesa. In parrocchia le veglie antiomofobia," ("The Church's Turnaround: Open Doors to Gays; Anti-Homophobia Vigils Held in Parishes") explains that the Church's new stance supporting homosexuality and "transgenderism" is due to Pope Francis. He writes:
"We must 'welcome and accompany' homosexuals and trans[genders], 'this is what Jesus would do today.' The turning point came after these precise and punctual words by Pope Francis less than a year ago (October 2016), returning from a trip to Georgia and Azerbaijan. And it has infected part of the Catholic world. So much so that from the day after tomorrow until the end of May, different parishes, Italian and not, will join the World Day for the Fight against Homo-Transphobia (the first cities will be Milan and Seville)."11
Where Liberation Theology Comes In
In the city of Reggio Emilia, the "vigil" for homosexuals and transgenders was held in the parish of Regina Pacis, whose pastor, Father Paolo Cugini, is a promoter of Liberation Theology and the subversive movement it inspired in Brazil, Grassroots Ecclesial Communities.12
Thus, in his blog we read a summary of his speech during the "Prayer Vigil for the Victims of Homophobia, Transphobia and All Forms of Discrimination [held at the] Church of Regina Pacis, Reggio Emilia, 14 May 2017." In a language typical of Liberation Theology, Father Cugini says that "no one is judged…because 'God is not a respecter of persons' (Acts 10:34)." And continuing in the same vein, "God stands on the side of the little ones, the marginalized, scorned and discriminated persons."13 The fact that a person is in a public state of sin does not matter.
He confirms the vaticanist Paolo Rodari's consideration above about the influence of Pope Francis in the change that is occurring in the Church regarding the homosexual movement. "Our strength" says Fr. Cugini, "comes from the words of Pope Francis on the subject, uttered a while ago. These persons must be welcomed, not pushed away. We are going in this direction thanks to him."14
Catholic Laymen Promote an Act of Reparation
Such kindness toward the homosexuals and transgenders was not extended to Catholics who care about the Ten Commandments and strive to live according to the Faith. Let us see how a group of lay Catholics from Reggio Emilia was treated when they were promoting a penance procession on June 3, the same day a homosexual parade was held in the city.
These laymen placed themselves under the protection of Blessed Giovanna Scopelli, a fifteenth century Carmelite born in Reggio Emilia, who led a life of mortification for the Church.
Their initiative, soon joined by more than 1,500 people, received the support of Raymond Cardinal Burke, Bishop Athanasius Schneider, and the theologian Fr. Antonio Livi, a former professor at the Lateran University.15
From the Diocese of Reggio Emilia however, the initiative received only criticism. Fr. Goccini, in charge of the Diocese's Youth Pastoral outreach, went so far as to say that "praying in reparation for the sins of others is an act of presumption."16 So, would Jesus on the Cross, praying for his enemies and persecutors, be committing an act of presumption? What of Our Lady, who appeared in Fatima and asked for sacrifices as "an act of reparation for the sins with which He is offended" and "for the conversion of sinners?" And what to say of so many saints that made sacrifices for sinners?
Bishop Massimo Camisasca, while allowing a parish in his diocese to be used in a ceremony to support the homosexual movement, made it clear that he does not support the group of lay people who promoted the penitential procession. One reason given is that they did not ask his permission to hold a religious procession. One would expect him, in his apostolic zeal, to seek them out and find a way to hold such a meritorious act of penance.17
Keep on Fighting
The Church of Our Lord Jesus Christ, through a mysterious Divine permission, has gone through innumerable crises to test the fidelity of the good and increase their merits (cf. 1 Cor. 11:19). However, despite the seriousness of the Arian crisis and the Protestant Revolt, it can be said that neither equaled the present crisis in its gravity or extension.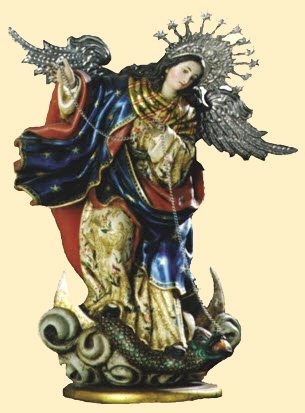 But the Mystical Spouse of Christ has the promise of indefectibility. Even when Our Lord seems to sleep in the boat of Peter (Matt. 8:25-26), He is actually watching over His Church to prevent Her from losing courage and to keep Her doctrine and Sacraments within the reach of those who have true zeal and love for the Church.
Therefore, we must not lose heart in the struggle to defend the doctrine and morals which come to us from the Apostles and are enshrined in the traditional Magisterium of the Popes and Councils, in catechisms and in treatises by great theologians.
Let us keep on fighting while waiting for Divine intervention. Let us be ready, for the Apocalypse says: "Behold, I am coming soon. I bring with me the recompense I will give to each according to his deeds" (Rev. 22:12).
May Mary Most Holy, who alone defeated all heresies, help us to remain faithful in the midst of the storm.
Footnotes