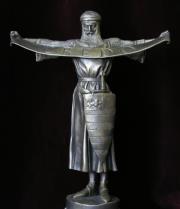 Contact: Sociedad Colombiana Tradición y Acción
Tel.: (1) 248-7564
www.colombia-autentica.org
BOGOTA, COLOMBIA, October 19 — In a strong and incisive statement of more than half a page, published in Bogota's daily El Tiempo on Friday, October 19, the Colombian Society Tradition and Action said that peace agreements with the FARC will not lead to real peace.The guerrillas' concept of peace is very different from that of the Colombian people. For them, peace and dialogue are mere code names for the war they are waging against Christian civilization.
The country cannot allow supposed peace agreements to be turned once again into a fraud against the nation. In the past, the guerrillas' commando assault on the Palace of Justice and the disastrous experiment with El Caguán demilitarized zone clearly demonstrated that the Marxist guerrillas were lying even as they sat down at the negotiating table.
"A guerrilla group defeated and rejected by the vast majority of Colombians relentlessly tortured by its crimes, seeks to gain at the negotiating table what it never obtained through armed struggle," the document states right in the beginning.
"We cannot accept the fact that 44 million people will be subjected to a tiny group of criminals seeking to dictate what Colombia will be like in the future," it adds.Furthermore, "unbeknownst to the public, enveloped in a mysterious secret and with the unconditional applause of many who hold political, economic and religious authority, a move is underway to shape a new State according to the requirements of Marxist subversion."
What is at stake in the ongoing negotiation is not a small jungle territory, but the very future of Colombia!
Finally, the document evokes the figure of former Chilean President Eduardo Frei, who went into history as the "Chilean Kerensky" for paving the way for Marxist Salvador Allende to become that country's president, and manifests the hope that Colombia will not have the same fate.
Colombian Society Tradition and Action
Please CLICK HERE for the full statement published in El Tiempo,
Colombia's highest circulation daily newspaper.