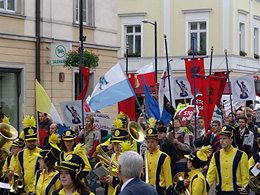 Over 2000 pro-family Poles marched through Warsaw on June 4, 2006 for the nation's First National March for Life and Family. The event was organized by the Fundacja Pro and the TFP-inspired Stowarzyszenie Kultury Chrzescijanskiej im. Ks. Piotra Skargi (Fr. Peter Skarga Association for Christian Culture).
The crowd included numerous young people and families with children. They represent a new generation of pro-life and pro-family Poles who affirm their Catholic moral values. A marching band, imaginative signs and lively slogans gave a festive tone to the Sunday rally. The American TFP also sent a delegation to participate in this cultural battle that transcends national boundaries.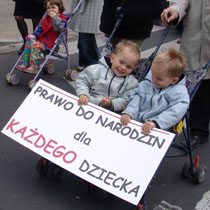 The event was especially timely considering the enormous pressure from the European Union to force member nations to accept practices contrary to Catholic teachings. Thus, the march served to show Polish opposition to abortion, same-sex "marriage" and so many other modern day threats to the family. Polish officials and politicians including the Minister of Education were also present at the march.
The two thousand Poles who attended were curiously ignored by mainstream media in Europe. This contrasted with the huge amount of publicity given to last year's aborted attempt at a "gay pride" parade, attended by approximately 50 participants, and 200 observers. This year, 2000 radical homosexual activists and leftist politicians from all over Europe converged upon the Polish capital to stage a larger "gay pride" march that hardly reflected Polish values. Between the two marches of two thousand, the "gay pride" march got decent coverage.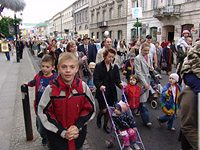 Catholic Poland overwhelmingly is against abortion and same-sex "marriage." It takes to heart recent Vatican statements against the practice of abortion and homosexuality. It also sees these practices as an attack upon its culture and very identity.
For this reason, Poland revoked its communist era liberal abortion laws after the fall of the Iron Curtain. Unfortunately, abortion is still legal under very restricted circumstances such as when the pregnancy results from a crime, when the baby is diagnosed with a genetic imperfection, or when the mother's life or health is in danger. About 150-200 such abortions are committed each year. Homosexual "unions" are also not legal but leftist radicals, feminists and those in the homosexual movement are trying hard to impose acceptance of their lifestyle on society and even target young children with pro-homosexual textbooks.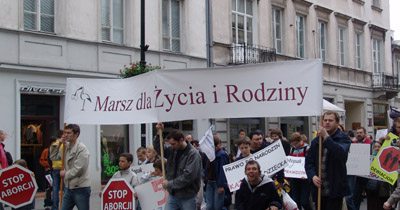 It is no wonder the organizing committee is planning on making the March for Life and Family an annual event. The committee hopes thousands upon thousands of Poles will join this march to affirm an authentic Poland and not an artificial Poland imposed upon the nation from outside.