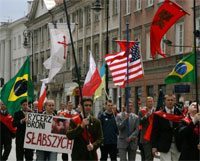 Thousands of pro-family Poles marched through Warsaw on May 25 for the nation's Third National March for Life and Family. The event was organized by the TFP-inspired Stowarzyszenie Kultury Chrzescijanskiej im. Ks. Piotra Skargi (Fr. Peter Skarga Association for Christian Culture) and the Fundacja Pro. It was fitting that the event was planned on the eve of Mother's Day in Poland.
Slawomir Olejniczak, co-organizer of the March for Life and Family, said the march signaled a need for Europe "return to family values."
As is common in such marches, the crowd included numerous young people and families with children. Poland has particularly stood out in Europe as a new generation of pro-life and pro-family Poles affirms their Catholic moral values. Marching bands, signs and slogans gave a festive tone to the Sunday rally. The American TFP also sent a delegation which included a bagpiper who added a bit of cultural diversity to the crowd.
The event was especially timely considering the enormous pressure from the European Union on all its members to accept the Treaty of Lisbon which mandates practices contrary to Catholic teachings. Polish opposition to abortion, same-sex "marriage" and so many other modern day evils has created difficulties for the Union.
The estimated four thousand Poles who attended the march were curiously ignored by mainstream media in Europe. Yet for the participants, the March for Life and Family was an event full of hope and an expression of the true Poland. It ended with a family picnic with a variety attractions – games and competitions for children. Mothers also received Mother's Day wishes and gifts from their beloved ones.