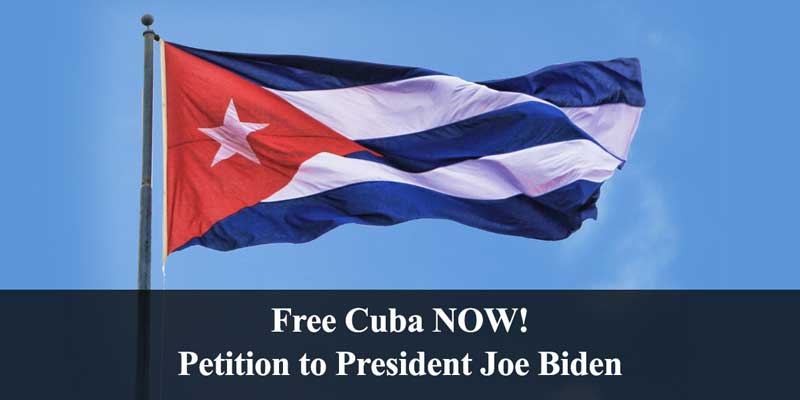 As the Communist Cuban government brutally suppresses protests in the streets, the American TFP joins those who deplore Marxism in all its forms to demand an end to the country's communist dictatorship.
The time has come to rally around the abandoned Cuban people that have suffered this oppression for sixty-two years!
Thousands have been arrested in the current protests. Many were killed, and hundreds are missing. The government censors communication with the outside world and even blocks the Internet.
At this critical hour, the judgment of God and history will be severe should the anguished cries of protesters be ignored. The communist oppression in Cuba must be eliminated once and for all.
President Joseph Biden was recently forced to admit that "Communism is a failed system, a universally failed system. And I don't see socialism as a very useful substitute."
The American TFP calls on the president to bring the failed system of Communism to an end in Cuba.
Sign our petition to President Biden and urge him to end Cuba's Communist regime once and for all.
________________________________________________________________
¡CUBA LIBRE YA!
Mientras que el gobierno comunista Cubano reprime brutalmente las protestas en las calles, la TFP Americana se une a quienes rechazan el marxismo en todas sus formas para exigir el fin de la dictadura comunista en Cuba.
¡Ha llegado el momento de unirnos al pueblo cubano abandonado que ha sufrido esta opresión durante sesenta y dos años!
Miles de personas han sido arrestadas en las protestas recientes, muchos han muerto y cientos están desaparecidos. El gobierno censura la comunicación con el mundo exterior e incluso bloquea el internet.
En esta hora crítica, el juicio de Dios y de la historia será severo si se ignoran los gritos afligidos de los manifestantes. La opresión comunista en Cuba debe ser eliminada de una vez por todas.
El presidente Joseph Biden se vio obligado recientemente a admitir que "el comunismo es un sistema fallido, un sistema fallido universalmente. Y no veo al socialismo como un substituto muy útil."
La TFP Americana le pide al presidente Biden que ponga fin al sistema fallido del comunismo en Cuba.
¡Firme nuestra petición al presidente Biden y exíjale que acabe de una vez por todas el régimen comunista en Cuba!
♦                          ♦                          ♦
Le pedimos que ponga fin al fallido sistema comunista en Cuba. El comunismo es malvado y un pecado grave contra Dios. Es un crimen contra la humanidad. ¡Deshagámonos del comunismo de una vez por todas! Por favor, tome la iniciativa en la denuncia de este resto soviético que sigue oprimiendo al pueblo cubano. 
Le pedimos que escuche los gritos de los manifestantes cubanos, de los cuales muchos son jóvenes. Ellos no quieren el comunismo sino la libertad que nunca conocieron.
Le pedimos que tome todas las medidas necesarias para llevar acabo este cambio de régimen y la normalización inmediata de la vida del pueblo cubano. No permita que los comunistas vuelvan a sofocar los legítimos deseos del pueblo cubano.
¡LIBERE a Cuba del comunismo ya y el pueblo cubano siempre le mostrará su gratitud a usted y a la nación estadounidense!
¡Que Dios bendiga a América!